My firstborn baby has at least several thousand photos documenting his first 12 months of life. My second baby has noticeably less than that. My third baby occasionally appears in photos with the older kids – and we have recently added a fourth baby to the bunch. I was worried that we would miss the once in a lifetime opportunities to photograph his milestones. Then I found out about baby month onesie stickers by Picky Sticky.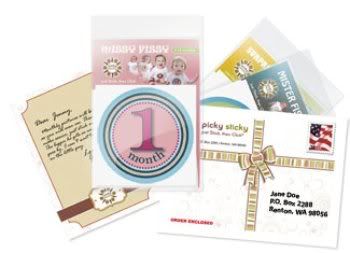 Picky Sticky month stickers make it so easy to record your little one's growth. Simply take one of the stickers, apply it to your baby's onesie, and take a picture! Thanks to Picky Sticky, I will never miss a milestone again. The creative ways to use your baby's monthly pictures are endless. I am already planning his first year in photos collage.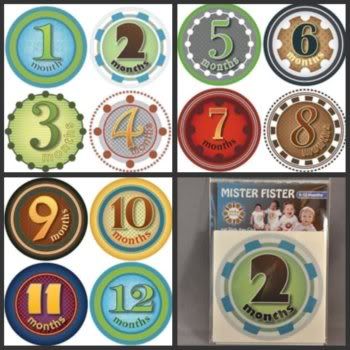 There are many color and style options of Picky Sticky month stickers for girls and boys. We chose one of the bestselling options, called Mister Fister, for our review (seen in above photos). The stickers are numbered 0-12 and are packaged in a clear cellophane bag with instructions on how to apply them to the onesie (or T-shirt). It's pretty easy: Just peel and stick! Each sticker measures 4 inches in diameter and will peel off the onesie when you are finished taking your pictures. It is so fun to compare photos from month to month and see how much my baby changes as he grows.
Picky Sticky baby month onesie stickers make perfect baby shower gifts. You can add a special gift message on the instruction card that goes inside the sticker set when you place your order.
BUY Picky Sticky month stickers online
Connect with Picky Sticky on Facebook and Picky Sticky on Twitter
Disclaimer: I received a free sample of Picky Sticky month stickers for review purposes. Al l opinions expressed are 100% my own based on personal experiences with the product.