This post brought to you by Blue Bunny Ice Cream. All opinions are 100% mine.
My family made a summer bucket list so we could be sure to do the things we really want to do before it's time for the kids to go back to school this fall. We have been making every moment count by spending quality fun time together.
Our summer bucket list walk to local waterfalls
Our list includes things as simple as going for walks, playing at the park and swimming. The pool has been a favorite destination lately. Once the thermometer hits 90 degrees, it's one of the best places around to keep cool.
Another great place to be is at our house, when mom decides it's time to cool down with a frozen treat. We all love the Blue Bunny® Sweet Freedom Krunch Lites ice cream bars. A crunchy chocolate shell covers lite vanilla ice cream. These no sugar added ice cream bars have half the fat and 37% fewer calories.
I can enjoy ice cream without feeling guilty for indulging in a treat with my kids when we have Sweet Freedom. Blue Bunny® no sugar added products are creamy and delicious – there's no fake sweet taste.
Blue Bunny® brand is the first national brand to create an extensive line of no sugar added ice cream and frozen treats. They have no sugar added ice cream cones, ice cream sandwiches and ice cream flavors like Butter Pecan and Bunny Tracks. Bunny Tracks is one of my personal favorites. This light ice cream has thick fudge and peanut butter caramel ribbons, chocolate covered peanuts and peanut butter filled chocolate bunnies…YUM!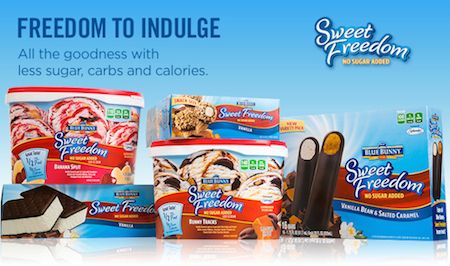 Look for Blue Bunny® Sweet Freedom products in your grocer's freezer section.
Sweet Freedom treats are perfect for anyone who is sugar conscious. I'll be telling you more about Blue Bunny® Sweet Freedom ice cream during National Diabetes Month.
Follow Blue Bunny® on Pinterest and Like Blue Bunny® on Facebook.