I read about this Bounce Facebook page promotion and thought it sounded like fun so I checked it out. It was! I thought I'd share it with you, too.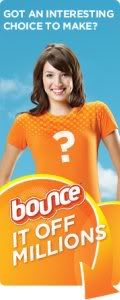 Do you have a choice to make and want to "bounce it off millions" to see what they think you should do? Between now and September 19, you can post any of your life's biggest questions on the Bounce Facebook wall. Bounce will turn your question into a poll and let their THOUSANDS of fans help you make your decision!
Four of the best, most interesting polls will win the Grand Prize and be turned into a Facebook-wide advertisement. That means your question could be sent out to 150 million Facebook users for feedback. 150 MILLION people! Wow! That is a lot of potential feedback! Even if you don't have a question of your own, you can head over and give your opinion on someone else's poll.
Here are some examples from their page (I just looked!).  I saw people asking for helping choosing between 2 baby names; a lady wanting to know if she should cut her waist-length hair or not; someone wondering whether to get his wife expensive jewelry or a trip to Cape Cod for their anniversary; someone is even asking "Should I marry Billy?" with a Yes or No answer. Sheesh! The list goes on and on – let's go help these people!
While you're there, you can also ENTER TO WIN a Bounce Dryer Bar for you and a friend in their Sweepstakes. 5,000 winners will be selected.  Open to US/Canada residents, excluding Quebec.
I haven't submitted a question just yet – but I'm thinking that my most pressing issue at the moment is should I have hamburgers or "breakfast" for dinner tonight. What do you think? Should I post my question? It isn't quite as life-changing as the decision on whether or not to marry Billy, but hey, Bounce wants us all to participate and the question wall is quite entertaining from what I have seen so far. Head on over and submit your question for the chance to go Facebook-wide in an ad!
Read Here For Contest Rules.
Disclaimer: I participated in this campaign as a member of One2One Network and am eligible for a prize drawing. All opinions stated in the post are my own.