This post brought to you by Walmart. All opinions are 100% mine.
I have exciting news for little boys and girls everywhere. Favorite Disney Baby friends are more adorable and more affordable than ever at Walmart. Disney Baby items also make the perfect baby shower gifts. Are you a soon-to-be mom or do you know an expectant mom? She can register online at Walmart.com for Disney themed essentials like a Disney Baby walker, Disney Baby potty, and Disney Baby booster seat.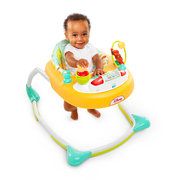 Disney Baby WINNIE THE POOH Dots & Hunny Pots Walker
Your baby is going to love play time in a Disney Baby walker. Pick from the WINNIE THE POOH Dots & Hunny Pots Walker, Disney Baby MINNIE MOUSE Bows & Butterflies Walker, and Disney Baby CARS Race to First Place Walker. Babies ages 6 months and up will love playing with Disney character toys on an electronic toy bar that is easy to clean and detaches so baby can play with it on the floor. The walker adjusts to three height levels and lays flat for storage!
Potty training can be an exciting, yet hard time for parents and children. I have learned that I'll pull out every trick in the book to make going to the potty more fun for my little ones. The Disney Baby 3-in-1 Celebration Potty Seats from The First Years help make going to the potty a happy experience.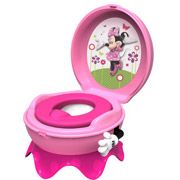 Disney Baby MINNIE MOUSE 3-in-1 Celebration Potty Seat from The First Years
Kids are going to love learning to use the potty when they see familiar faces like Minnie Mouse, Winnie the Pooh and the Cars characters. A Disney Baby 3-in-1 Celebration Potty Seat also gives your child positive reinforcement. Little potty learners are going to love this potty seat's "hip-hip-hooray" sound flushing arm.
Little ones start out using this as a standalone potty with its easy to clean soft seat and lift-out pot for emptying. Once they are ready for the real potty, the potty training seat can detach and fit on the family toilet. Close the lid on the potty and it instantly converts to a sturdy step stool. Take it from me, that step stool is a handy feature when it comes time for little kids to climb up to the regular potty!
A baby potty made it so much easier for me to potty train my kids. They felt a lot more comfortable using a potty designed just for them. One of my kids actually had a fear of our "big" potty, and wouldn't go near it. He thought he would fall in if he sat on it. I think the loud flushing sound scared him, too. A baby potty seat was the only way to get him feeling safe enough to relax and go potty. He is a huge fan of Lightning McQueen and would have loved a Disney Baby CARS 3-in-1 Celebration Potty Seat.
How does your baby feel about going to the potty? Do you use or plan to use a baby potty?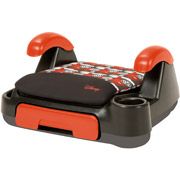 Disney Store 'n Go Backless Booster, Cars Formula Racer
Once babies graduate to a booster seat, they'll want to ride anywhere in a Disney Store 'n Go Backless Booster. This belt-positioning booster fits children 40 to 100 pounds (and 43″ to 57″ tall).  I really like the built-in cup holder on one side and extra storage on the other side – so kids can keep a drink and snack handy.
At Walmart's affordable prices, you'll want to get all 3 matching essential pieces for your littlest Disney fan. Or mix and match your favorite Disney Baby characters for all around fun. If you are planning a Disney themed nursery, then I know you have already added these to your Wish List!
Are you a soon-to-be mom? Are you already a mom? Which Disney Baby essentials would your little one love?