This post brought to you by Nanolia Worldwide. All opinions are 100% mine.
What does nanotechnology have to do with cleaning my house? Well, it means the future of cleaning has arrived. The new line of ecofriendly Nano-iT cleaners use nano-based technology to clean below the surface, where conventional cleaners can't reach. Cleaning requires less scrubbing and keeps your household items looking new.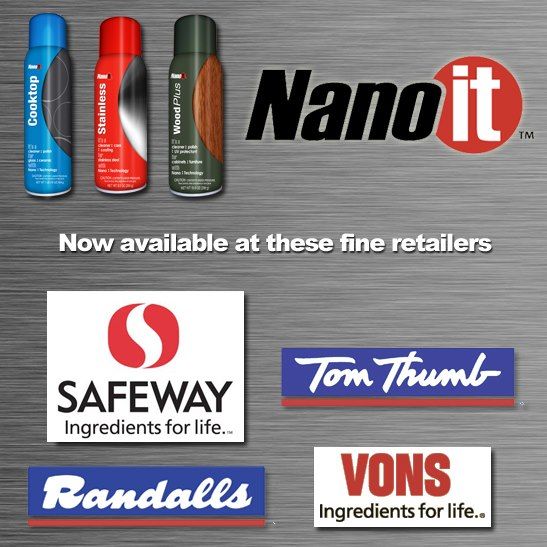 I learned about three Nano-iT products that can handle the bulk of kitchen and wood surface cleaning around the house. 
Remove even  the most stubborn dirt, grease and stains such as coffee, wine, oil and even chewing gum from your countertops with Nano-iT Countertop. This unique, environmentally-friendly cleaner helps you clean without using abrasive cloths. It won't scratch the surface of your countertops and does not harm any water tolerant surface or protective coating. You'll also want to try Nano-iT CookTop on your stove.
My stainless steel appliances look shiny and nice when they aren't covered in fingerprints! That's why I will try the Nano-iT Stainless Cleaner. It doesn't just clean stainless steel, it also polishes, conditions and shines without streaking. Then the oil-based formula leaves behind a microscopic-thin layer that actually protects the surface against future fingerprints and smudges for easier cleaning in the future. I have really got to get my hands on some of this!
The Stainless Cleaner can be used on more than just stainless surfaces. Use it to clean copper, chrome, aluminum, kitchen appliances, outdoor grills, automotive trim and bathroom fixtures.
Nano-iT WoodPlus restores the original appearance and luster of wood. I like that it can be used on a variety of wood surfaces, including finished, stained and unfinished wood. The oil-free hydrophobic formula protects against UV damage. The shiny results are longlasting.
Are you ready to clean with the power of nanotechnology? Which Nano-iT products sound like a good fit for your home? 
WHERE TO BUY:
Nano-iT products can be found at Safeway and in the Safeway family of stores, including Vons, Tom Thumb and Randalls.
Money-Saving Coupon!
Try Nano-iT products and save money with this coupon, good for use in all Safeway stores.