Green Toys is one impressively green company! Their products are made out of recycled materials and even packaged in minimal sized packaging that is 100% recyclable. Every aspect of their operation is as Earth-friendly as can be, plus everything is 100% Made in the USA.
When I look at their toys, I am amazed to think that every single one of them used to be a plastic milk jug! Talk about creative recycling – Green Toys has got it all figured out.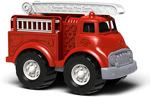 We recently received one of the many Green Toys vehicles, the Fire Truck. Needless to say, my boys immediately loved it! It has a cool pivoting ladder and two removeable side ladders. The Fire Truck is very well –constructed and has already withstood many hours of vigorous play at our house. Recommended for ages 1 and up.
Here's Luke – excited and happy as can be to get the first round of play with the new Fire Truck!
And here is Bridger, patiently browsing the Green Toys catalog while he waits his turn.
Finally…Luke decides to share the Fire Truck. Bridger likes playing with the ladders!
Green Toys has a wide selection of products including Baby & Toddler utensil sets and toys, Building Blocks and Play Sets, Kitchen Play, Outdoor Play, Science and Nature, and Vehicles. You can purchase them online at the Green Toys store or at various online retailers. (See website for online retailer links.)
My children have already picked out what they would like next from Green Toys – they have high hopes to find some Green Toys in their Easter baskets! In fact, I put Green Toys at the top of my list of Eco-Friendly Easter Basket items in a recent blog post. I definitely recommend Green Toys to you as quality, environmentally-friendly classic toys that children will love and enjoy. Check them out today!
Disclaimer: I was provided a Green Toys Fire Truck for review purposes. All opinions expressed are my own, based on my personal experiences with this company's product.