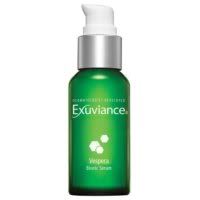 The first thing I noticed about the
Exuviance
Vespera Bionic Serum was the gorgeous green of the Emerald colored bottle. The serum is supposed to visibly improve fine lines, wrinkles, skin clarity and texture. I was excited to see how the product would work on my thirtysomething-year-old skin.
I did not have to wait long to see signs of improvement. After using the serum regularly for about a week, I noticed that my skin looked smoother and the pores were less noticeable. This is the only skin care product I was using (besides face cleanser) – so I feel confident that these amazing results are due to Exuviance.
About Exuviance Vespera Bionic Serum (From Exuviance.com):
With regular use, it visibly improves fine lines and wrinkles and skin texture, and is clinically proven to result in a 212% improvement in clarity after just 6 weeks of use. Vespera Bionic Serum is wonderful on its own but can also be used as a booster under other treatments or moisturizers, or for complementary therapy following glycolic acid peels, microdermabrasion, and non-ablative laser and light procedures. Formulated with marine botanicals, this serum is suitable for all skin types, even the most sensitive skin.

Formulated with (AHA) Mandelic Acid, and (PHAs) Lactobionic Acid and Gluconolactone
Multi-Antioxidant protection from Pro-Vitamins A, C and E
A marine botanical helps to smooth stressed skin
Ideal for use following glycolic acid peels, microdermabrasion and laser procedures
A 1 oz. bottle of Exuviance serum costs $68, but it will last at least several months. A little bit definitely goes a long way. I found that using only a couple of drops provides enough coverage for my entire face.
The only down side is that the serum can be slightly sticky as it dries, so sometimes little wisps of my hair would stick to my face if they brushed past my skin. This isn't really a big deal and did not stop me from wanting to use the product.  I love the results I am seeing from using it. I am only mentioning this down side because it is something that I noticed when I used it.
Overall, Exuviance Vespera Bionic Serum has quickly and noticeably improved my skin and it is an excellent product I feel good about recommending to anyone.

Disclaimer: I received one or more of the products mentioned above for free using Tomoson.com. Regardless, I only recommend products or services I use personally and believe will be good for my readers.