This is a Sponsored post written by me on behalf of World Market for SocialSpark. All opinions are 100% mine.
We took our favorite dad on a family shopping trip to World's Market last weekend. The whole store is filled with all sorts of things that would make awesome Father's Day Gifts. I'm talking everything you can think of as far as BBQ tools and utensils go, plus Beer/Wine tastings, Bar essentials and more. I let dad (aka my hubby) take the lead and followed him and the kids around World Market to find out what kind of things would catch his eye.
The kids were happy because Dad led them straight to the candy selection! Our 2-year-old found what must be the World's Biggest Tootsie Roll Pop and my husband grabbed a big bag of Daim, a Swedish candy he used to love when he lived in Norway.
Then it was on to the great wall of soda from around the world. Since this dad considers himself to be a root beer connoisseur, he wanted to fill the cart with a variety of bottled root beer! I would never have thought of making him a Root Beer gift basket for Father's Day, so I was glad we brought him along to help us shop.
We saw so many BBQ & Grilling utensils and tools at World Market. They have everything you need to throw a fun patio party. We were even tempted to take a few of the colorful Adirondack chairs home with us from the Outdoor Furniture & Decor section. Sadly, we will have to save the chairs for another day.
Once we got home, I was able to use a lot of the goodies we bought at World Market to create a Father's Day Root Beer Sampler gift basket for the kids to give to their dad. My husband LOVES to try new root beers, and was thrilled at the many different kinds from around the world we were able to find at World Market. I also tossed in a couple bottles of interesting hot sauces we found there, too. My husband also fancies himself a hot sauce connoisseur. Most dads love root beer and this sampler basket of root beers from around the world is easy to create with World Market's selection.
Our family had a great time shopping for Father's Day gifts at World Market, and know you will, too. What do you think your dad would like most from World's Market? Let me know your favorite gift ideas in the comments section below.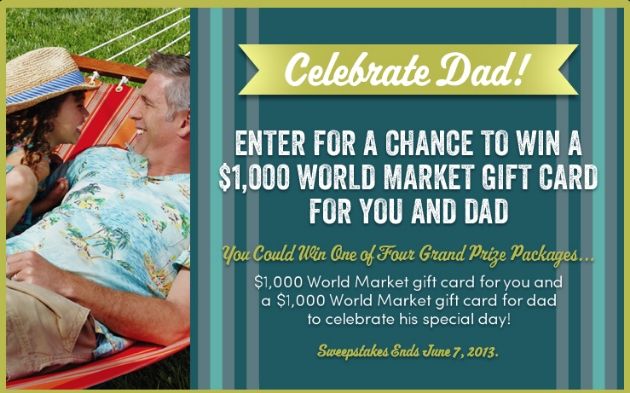 Enter the Dad's Day Sweepstakes!
Cost Plus World Market wants to celebrate our amazing dads this Father's Day with a Dad's Day Sweepstakes. Facebook fans can enter to win one of 4 weekly Grand Prizes: $1,000 Gift Card to World Market for yourself and a $1,000 Gift Card to World Market for your dad!
You can earn bonus entries by liking World Market's Facebook, Pinterest, Twitter, Instagram, and Tumblr brand pages (find the links at World Market's Facebook page).