Here is the perfect gadget to keep your kids safe this Halloween:  The New High Quality ICON Link Carabiner L.E.D. Flashlight
. It's even the perfect Halloween color – Pumpkin Orange!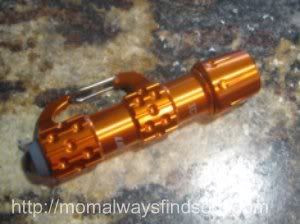 The Icon Link LED Flashlight has 2 different levels of light output (simply click the button to switch between low and high beams). The bright, focused high beam is perfect to help your child see where they are going in the dark and also helps improve their own visibility while they are out and about trick-or-treating.
This flashlight is small and lightweight, which makes it easy for children's hands to hold. You can also attach it just about anywhere (think costumes, bags, clothing) with its handy carabiner clip. It's made from high quality aluminum, so you don't have to worry about the kids destroying it – the body is very durable.
LINK features
Length: 4 inches

Weight: 3.1 ounces

Waterproof: Up to 1 meter

Battery: 1 AA

Material: Aluminum

Light Output: 50/6 Lumens
Why are LED flashlights better than traditional flashlights?
LED flashlights use less battery power, so batteries last longer
LED flashlights are Eco-Friendly because they don't contain mercury
LED flashlights last up to 10 times longer than traditional flashlights
LED flashlights produce less heat; the Link also has an aluminum body for thermal properties
I have to admit, this is a really cool flashlight! It is super bright on its high setting – so be sure not to look directly into the beam unless you want to be blinded. The low beam is the perfect amount of light to search through my purse or the backseat of the car to find something.
Although we got this flashlight for the kids to use on Halloween, I have already let them know it's "Mommy's flashlight" because I really want it for myself! It is a great portable flashlight because of its smaller size and light weight. Right now, I carry this around in my bag for emergencies – but my kids will have fun and be safer using it when they are out and about this Halloween.
PURCHASE an ICON LINK LED FLASHLIGHT!
Disclaimer: We received a free sample Icon Link LED Flashlight for review purposes. All opinions expressed are 100% my own, based on personal experiences with the product.