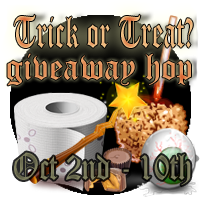 October is here and it's time to count down the days to Halloween! Mom Always Finds Out has teamed up with more than 30 other blogs for great giveaways with a Trick or Treat twist.
This Halloween Trick or Treat Blog Hop will feature giveaways worth at least $50 on every blog. But whether you are getting prize packages of Trick, Treats or a mixture of Tricks and Treats will not be revealed until the winners are announced!
I can't speak for everyone else's giveaways since even I don't have a clue what they are giving away, but I can at least let you know that my prize package is a mixture of Tricks and Treats…probably a bit more on the TREAT side, since even the TRICKS are pretty good if you ask me! Hint: The Rafflecopter Entry Form may contain possible clues as to some of the prize sponsors (Example: If the requirement is to Like a Facebook page, it is likely clue as to a sponsor involved in the prize package).
So go ahead, Trick or Treat a bit early this year by entering my Rafflecopter giveaway. This giveaway is open to USA addresses will end at midnight on October 10. Once you've entered my giveaway, follow the linky list below to the other blogs on the hop to enter their giveaways too. Happy Haunting…I mean, Happy Hopping!


Disclaimer: The members of the Trick or Treat Hop, unless otherwise stated, are not responsible for the shipping of these prizes. These companies have made an agreement with the blogger for representing them and in most cases are shipping the prizes out to the winner directly. Please let the blogger know if you do not get your prize in a timely manner, and we will do everything we can to assist you.