*This post will be updated with new Twitter parties this week as I hear about them.*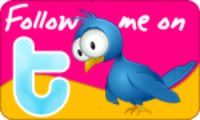 Are you on Twitter yet? Have you ever attended a Twitter party? I love it when the stars align and I'm able to attend a Twitter party (while my kids nap or are otherwise engaged). Most parties only last an hour, and you can come and go as time allows.
If you have a Twitter account, but haven't gone to a Twitter party yet – you're missing all the fun! Twitter parties are a great way to learn more about topics, products, and other people you Tweet with during the party. And many times, there are great prizes to be won throughout the party.
Here is a list of some great Twitter parties taking place this week. I have the basic information and the links to where you can go to learn more and/or RSVP. I hope to see you there – cause there are LOTS of prizes to be won this week. You'll definitely want to check out @ResourcefulMom's Telenav party – more than $1000 in gift cards will be given away!
#GreenTicket Twitter Party
When: Tuesday, July 19th
Time: 9:00 pm ET
Who to Follow: @RockinGreenSoap, @TheEcoChic, and @EcoChicSidekick
Location: Twitter
Hashtag: #GreenTicket
Prizes:  50 registered audience members will win samples of Rockin' Green REMIX.  3 lucky audience members will go home with Rockin' Green prize packs with 2 (full size) bags of Rockin' Green REMIX, a magnetic laundry scoop, Shake It Up pail freshener, and a bag of Funk Rock Ammonia Bouncer!
To get your ticket and to be eligible to win these great prizes RSVP by filling out this easy entry form.
#ToastTues Twitter Party
 When: Tuesday – 7/19 – 8:00 to 10:00 p.m. ET
 Sponsor: I Can't Believe It's Not Butter!
 HashTag: #ToastTues
 Giveaways: TBA, plus additional giveaway on post Updated: There are tons of prizes for this party now listed – go check out Resourceful Mommy to see the official list – it's LONG but includes a panini press, a $240 toaster and more!
Thursday – 7/21 – 10:00 to 11:00 p.m. ET
– Sponsor: TeleNav
– HashTag: TBA
– Giveaways: More than $1,000 in same as cash gift cards!
– RSVP Coming Soon! Watch the Resourceful Mommy blog for full details!
Updated 7/18 PM to add:
#OfficialLatte Twitter Party
Seattle's Best Coffee and SocialMoms have teamed up to host a fun Twitter Party on Thursday, July 21. We hope you can join us as we talk about tips for making your life easier and more efficient while on the go! You'll be entered for a chance to win great prizes just by participating during the party. Don't miss out on the fun! We will be joined by our co-host, Alissa Hartzler, author of Mommy and Molly blog, (@mollyandmommy), who will talk about tips for moms on the go. Please make sure you follow @socialmoms, @mollyandmommy and our sponsor @seattlesbest before the party!
Date: Thursday, July 21, 2011
Time: 4-5pm PST (7-8 EST, 6-7pm CT)
Hashtag: #officiallatte
Sponsor: @seattlesbest
Prizes!
We are giving away twenty-five $20 Target gift cards to our random winners! 10 prizes will be awarded to participants tweeting an invitation to their followers before the party using the #officiallatte hashtag, and 15 will be awarded to participants tweeting with the #officiallatte hashtag during the party!
Please let me know if you have any questions about Twitter parties and I'll do my best to answer. And if you know of a great Twitter party coming up, feel free to INVITE ME TOO. You can e-mail me at momalwaysfindsout.com or leave it in the comments. Oh and be sure to follow me on Twitter!
Thanks to the Eco Chic  & Resourceful Mommy's Twitter Party Newsletters for keeping me informed so I don't miss out on any party tweets!