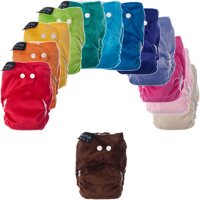 The itti bitti cloth diaper company has been around for awhile now in other parts of the world, and finally debuted in the United States in March 2011 to rave reviews and lots of excited cloth diapering families who have been waiting a long time to try their first itti bitti cloth diaper. I am one lucky mama who has recently been given the opportunity to try 2 different styles of itti bitti diapers on my 17 month old son.
We were sent the bitti d'lish and the bitti tutto. My first thoughts when I opened the package of itti bitti diapers were 1) I love the bright colors!, 2) I love the plush, soft minkee fabric!, and 3) These are very nice and trim diapers – not poofy and bulky at all.
The bitti d'lish comes in 2 style options: Snap-in-One and All-in-One. I opted for the Snap-in-One because with this style, you can use the minkee outer shell as a cover, and simply change out the wet inner liner for a dry one. The bitti d'lish has a soft suedecloth inner and the liners have 8 layers of bamboo, which keeps even heavy wetters dry. Personally, I love bamboo for its amazing absorbency qualities, and the bitti d'lish definitely performed well for us. The All-in-One version of the bitti d'lish would be very daddy and daycare friendly.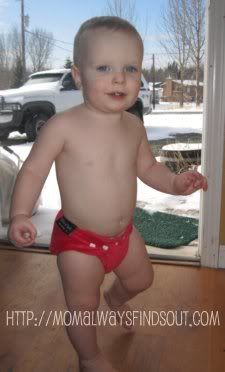 bitti d'lish diapers come in sized options so you can find the perfect fit. They are designed to be low rise and trim fitting. You can see in the picture of my son (red diaper) how the rise hits him a couple inches below his belly button. The size large fits him perfectly with room to grow.
Next up we have the bitti tutto. This is the diaper you will want to try if you are looking for a one-size diaper that will fit your baby from newborn to potty training. My opinion is that it's also a great option if you have two or more children in diapers at the same time – you can simply adjust the diaper with the snaps to fit each child, so they can share! Each diaper comes with 3 soaker pads so you can adjust the absorbency, and this diaper's minkee outer shell is waterproof – no need for a separate cover.
The bitti tutto is also designed with a patented 'poo-fence' in the inner suedecloth liner, so you don't have to worry about leaks. It really works! You will notice in the above picture (turquoise diaper) that the rise in the diaper hits close to his belly button – higher than the bitti d'lish. I have not adjusted this diaper at all and you can see he has plenty of room to keep growing, but it is still a great fit and contains all messes (thank you, patented poo fence!). Sidenote – my very wiggly baby makes for blurry pictures – but you can tell he is totally delighted to be wearing an itti bitti diaper!
If I were a baby and got to choose my own diapers, I would definitely make sure my stash included itti bitti cloth diapers. They come in a huge selection of colors, feel so luxuriously soft, and most importantly, they do the job they were made to do.
Visit the itti bitti website for more information and to check out all of their cloth diapers, minkee wipes, luxury wetbags, and more. Spring Limited Edition minkee prints are now available!
I KNOW YOU WANT TO WIN SOME itti bitti DIAPERS!
You have come to the right place! One lucky winner will receive a bitti d'lish (Snap-in-one) & a bitti tutto! This giveaway is open for USA and Canada and will be open until Saturday, April 16, 2011. Winner will be randomly selected by WP plugin "And the winner is" and e-mailed with 72 hours to respond and claim their prize.
Mandatory: The winner of any of my giveaways must be following my blog on Google Friend Connect before any of their entries count. Please leave a separate comment for each of the following entry options you complete:
• Visit itti bitti and let me know what size bitti d'lish (the bitti tutto is one-size) and colors of diapers you want to win
• Like itti bitti us on Facebook
• Follow itti bitti us on Twitter
• Like Mom Always Finds Out on Facebook
• Follow Mom Always Find Out on Twitter
• Tweet this giveaway and/or Post this giveaway on Facebook (1 entry daily!)
• Subscribe to my RSS feed via Reader or Email subscription (see right sidebar)
Disclaimer: I was provided a bitti d'lish and bitti tutto diaper for review purposes; no other compensation was received in exchange for this review. All opinions expressed in my review are honest, and based on my personal experiences with using this product. Your experiences may be different.