A few months ago, I had the opportunity to review a SmartKlean laundry ball. This is a very unique way to do laundry – the main thing that sets it apart to me is that it doesn't use any form of detergent whatsoever to get your clothes clean (and yes, it works!). No detergent means no harmful chemical residues left behind on my family's clothes, which is especially important now that we have a new baby.  When I do my baby's laundry with the SmartKlean laundry ball, I know that his skin will remain detergent free.
The following SmartKlean ad has a list of "Two Facts You Need To Know" that really made me think about how grateful I am to have a healthy alternative to use instead of laundry chemicals: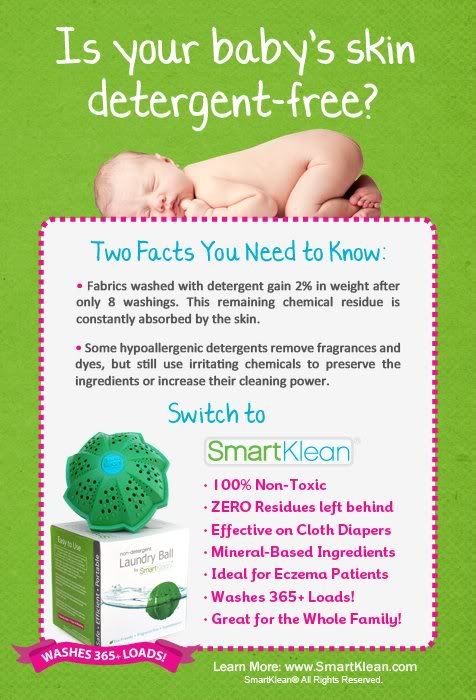 I know many people, including myself in the past, use special detergents made just for babies – but those products are still detergents that will leave a residue behind. If you are looking for a safe, effective means to wash your baby's laundry, try a SmartKlean laundry ball.
Another thing you'll love to know: One SmartKlean laundry ball lasts for 365 washes! That means I can wash one load per day for an entire year without needing to buy anything else.  My family has saved money this year because I have no need to buy laundry detergent.
SmartKlean Laundry Balls are available for purchase online.
Disclaimer: I did not receive any form of compensation for writing this blog post. This post contains referral links. All opinions expressed are 100% my own, based on personal experiences with the product.