My boys love to build. Laser Pegs has taken construction toys to the next level with their light up building kits. We recently received the new Laser Pegs World of Bugs Mini Kit to play with and see what we thought about it. Laser Pegs are a very unique toy and we had never seen anything like them. They are a complete hit at our house!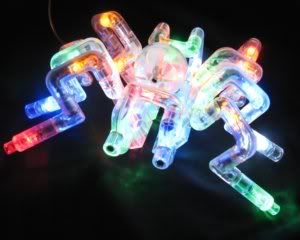 Each Laser Peg piece lights up in a different color. You can build with them turned on or off. Only one Laser Peg is attached to the battery-operated power source, and the other pegs will light up once they become attached to it. You can buy an AC accessory kit, which I would definitely recommend so you don't have to use batteries to keep it lit up for long periods of time.
The World of Bugs Mini Kit (about 32 peg pieces) came with instructions on how to build the Mini Monster Bug. These toys are rated for ages 7 and up. My 7 year old had no problem whatsoever building the entire thing all by himself.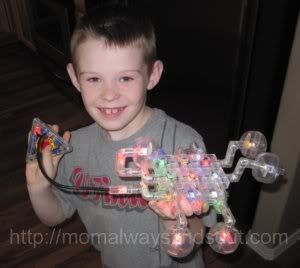 Once the Mini Monster Bug was built, the boys disappeared and the house got quiet. I found them in their room, huddled around the Monster Bug. (It was really dark in their room – you can't tell in the picture because of my camera's flash.)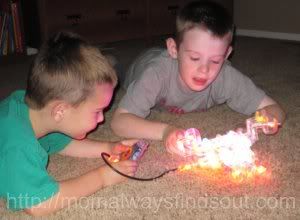 These are a great toy for children to play with to encourage their creativity. They will have hours of fun building with Laser Pegs and enjoying the light up features. My kids want to use their Monster Mini Bug as a nightlight!
The Monster Bug Mini Kit comes with 32 pieces, which is enough to build the really cool bug, but not much else. I would suggest buying a larger kit so that your children can have plenty of the sizes and shapes of Laser Peg pieces they need to build more stuff. Once you have more pegs, you can download the building instructions for hundreds of other models from the Laser Pegs website.
Purchase Laser Pegs at the Laser Pegs online store or use the Store Locator on their website.
Connect with Laser Pegs on Facebook and Laser Pegs on Twitter.
Disclaimer: I received a free Laser Pegs Mini Kit for review purposes. All opinions expressed are 100% mine and are based on personal experience with the product.