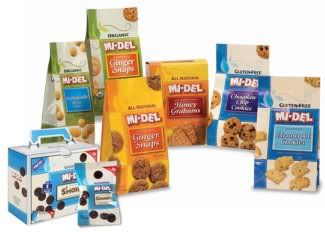 My kids have what they like to call their "dessert" stomach – you know, the stomach that loves to eat things like cookies and snacks all the day. As a mom, I try to put good, nutritious foods into their dessert stomachs whenever I can. The MI-DEL cookie company understands the importance of feeding your family healthy food, and their delicious cookie products are prepared with good nutrition in mind. MI-DEL has a variety of cookie products for just about every dietary need: Gluten-free, Classic Naturals, Organic, Bite-Size, and Single Serve.
We tried the MI-DEL Graham Crackers, Organic Ginger Snaps, and Lemon Snaps. My kids could eat their weight in graham crackers, these were so good! I love that these are all-natural and do not contain any trans fats or artificial sugars. My personal favorite was the Organic Ginger Snaps. I have always loved ginger snaps, and these were definitely a nice treat for me (and tasted great with milk!).
MI-DEL has been in the cookie business since 1947, and hopes that you will visit the MI-DEL website to learn more about their products and to find a retailer near you. You can find their products in the natural foods section of your grocery store and at thousands of other stores. They are also available for purchase on Amazon.com.
The MI-DEL website also has a page of delicious recipes to make using their cookie products. MI-DEL Chocolate Snaps make the perfect pie crust for your favorite Creamy Peanut Butter and Chocolate Pie. Use their Honey Grahams to make your crust for a yummy Strawberry Cream Pie.
Special Offer Going On Now:
FREE MILK with your delicious MI-DEL Cookies!
Look for specially marked packages of MI-DEL cookies for the new FREE MILK coupon. When you buy two MI-DEL Cookie packages, you are eligible for a free quart of milk (up to a $2 value).
Have I made you hungry yet? Hungry enough to enter to win some MI-DEL Cookies?
MI-DEL would like to send (3) lucky winners a coupon for a FREE MI-DEL product of their choice! Giveaway is open to US residents ages 18 and up and will end at 12:01am EST on July 31.
HOW TO ENTER: Simply fill out the easy Rafflecopter entry form below. (Please leave a comment if you have any questions about using the form, I'll be glad to help!)
Disclaimer: I was provided free samples of MI-DEL cookie products for review purposes. Sponsor has provided coupons for (3) winners along with pre-stamped envelopes so that I can fulfill the prizes for this contest. Prize envelopes will not be mailed with delivery confirmation. Once I have mailed the winners their envelopes, I am no longer responsible for the delivery of the prizes – I will leave it to the USPS.