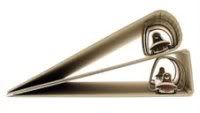 Send your student back to school in Eco-Friendly fashion with Naked Binder school supplies.  Naked Binders are made from 100% post consumer waste board and are 100% recyclable and biodegradable.  Not that you will need to throw them away anytime soon – these super strong 3-ring binders are designed to last ten years or more!
Think about it.  How many vinyl binders have you had to throw away in the past?  I know I have tossed a bunch over the years – traditional binders wear out so frequently, contributing 10 million pounds of vinyl to our landfills per year.  Naked Binders by nature and design will never contribute to a landfill.
I love office and school supplies that are colorful, which makes the Project Binder (pictured below) the perfect Naked Binder for me.  It comes in a nine different color options.  Plus, Naked Binders are completely customizable – you can mark and/or put labels directly on them.
Naked Binder's mission is to create the most sustainable office supplies offering an eco-friendly alternative to the toxic options on the market.

We avoid using toxins in manufacturing, packaging and shipping, minimize waste and recycle nearly everything.

Naked Binders are made in the US.  Every one of our products is manufactured in Des Moines, Iowa.

Every one of the Naked Binder products is crafted to meet the highest possible standard.  If you are unsatisfied with our products, send them back for a refund.

A PART OF OUR SALES GOES TO HELP PRESERVE WILDERNESS AND WILD AREAS.
Are you ready to go Eco-Friendly with this year's school supply list?
Disclaimer:  I did not receive any form of compensation in exchange for this blog post.  All opinions expressed are 100% my own.