The Planet Earth Limited Collector's Edition from BBC Earth is now available on DVD & Blu-Ray. See the #1 non-theatrical Blu-ray release and #1 selling documentary DVD of all-time like never before in this newly released edition of the award-winning series. Earth's beauty and majesty looks more beautiful than ever in this version, which takes advantage of advances in HD technology since the original release.
My family first watched this series on cable TV and there just aren't words to describe the amazing journey that each episode will take you on as you see the world we live in from places you cannot even imagine.  Planet Earth took five years to film and captures breathtaking images from more than 200 locations around the globe.  You will be on the edge of your seat watching scenes from every natural habitat on Earth. We are thrilled to be able to own and watch the series in the latest high definition version, which allows us to view everything in crystal clarity.
The 6-disc Blu-ray and DVD box sets include over three hours of bonus materials including:
• Special Sneak Peek at Executive Producer Alastair Fothergill's next blockbuster project: Frozen Planet
• Commentary on select episodes
• Greatest Planet Earth Moments – Relive the greatest moments of this revolutionary series and discover how these scenes were captured on film.
• Snow Leopard: Beyond the Myth – The BBC Natural History Unit explores a secret cave deep in the mountains of Pakistan where generations of snow leopards return each year to raise their young.
• Secrets of the Maya Underworld – The freshwater pools that dot Mexico's Yucatan peninsula were believed by the Mayans to be portals to the underworld. For the first time ever, the BBC Natural History Unit explores this incredible, labyrinthine system of underground rivers.
• Elephant Nomads of the Namib Desert – Follow the struggle for survival of two female elephants trying to raise their young in one of the harshest climates on Earth.
• Music only viewing option
Original DVD Bonus Features Now Available on Blu-Ray:
• 110 minutes of behind the scenes footage – one 10-minute behind the scenes production video diary for each episode
• Planet Earth – The Future – This 3-part series looks at what the future may hold for endangered animals, habitats and – ultimately – us.
View stunning video from the Official Planet Earth Playlist: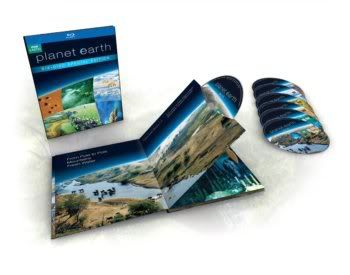 Available now while supplies last, the Planet Earth Limited Collector's Edition comes in an exquisite, numbered, collectible globe package with an exclusive set of four art cards.
Disclaimer: I received a Planet Earth DVD in exchange for this review. No other compensation was received. All opinions expressed are my own.  This post contains affiliate link.