Spa For Ma begins next week here at Mom Always Finds Out and on more than 100 other blogs! I have a wonderful prize package filled with the best pampering products for all you Ma's out there. Beauty Rx is one of my amazing sponsors. Three winners will win a Beauty Rx product.
BeautyRx is an award-winning line of skin care products created by a certified dermatologist, Dr. Neal Schultz. All of the products are formulated to help your skin look younger, healthier and beautiful.
Summertime is the time my children and I are outside most often to enjoy being in the sunshine. Using sunscreen to protect our skin from damaging sun rays is very important. Beauty Rx sent me 3 of their top sunscreens for our review.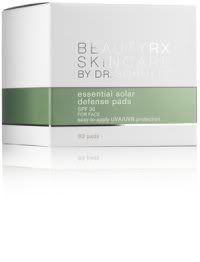 These sunscreen pads are non-comedogenic, oil-free and so lightweight that they dry almost instantaneously, leaving no residue, so they won't cause acne breakouts and won't sting your eyes while swimming or sweating.

Perfect for all skin types, our award-winning solar defense pads also are:
Great for people on-the-go or those looking for easy sunscreen application
Ideal for parents with toddlers who resist the application of creams and lotions
Absorbs quickly and is invisible to the touch, making it ideal for the face
Spreads easily making it also ideal for the body
Makeup applies easily on top

My thoughts: This really is the easiest way to put on sunscreen! I especially love it for my kids, who never sit still for me to apply sunscreen and rub it in – these pads make sunscreen application quick and easy.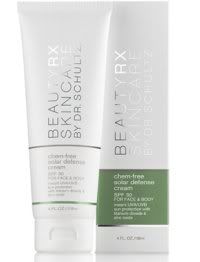 Containing micronized zinc oxide and titanium dioxide, this cream provides instant protection by actually reflecting damaging rays of the sun away from your skin, without having to wait 30 minutes, to be fully protected. This cream is so light that it's invisible when applied on your face making it an ideal sunscreen for all skin types.

The BeautyRx Chem-free Solar Defense Cream SPF 30 also:

Can be applied easily and evenly under makeup
Hydrates your skin and protects it from the drying effects of the sun
Is excellent for sensitive skin
Absorbs excess facial oil with its micronized particles to delay oil breakthrough
Formulated to be water resistant for up to 80 minutes in the water
Spreads easily, making it ideal also for the body

My thoughts: I like using sunscreens that contain zinc oxide and this is a great formula. It absorbs completely into the skin so I don't feel like I have a thick layer of sunscreen on my face.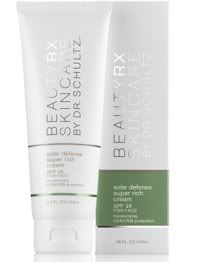 Solar Defense Super Rich Cream For Face SPF 25
Perfect for Dry skin, our super rich solar defense cream also:

Can be worn under makeup
Doubles as an elegant rich facial moisturizer for user any time of the day or night
Formulated to be water resistant for up to 40 minutes in the water
Spreads easily making it suitable as a facial and body sunscreen

My Thoughts: This product is nice because not only is it a sunscreen, it is also a creamy moisturizer for your face that can be worn day or night. The sun can really dry out my skin, so I like using this formula to not only protect my face from the damaging effects of the sun, but also to keep it feeling moisturized.
See the complete line of Beauty Rx Skin Care Products & Purchase Beauty Rx Skin Care Products
 at the Beauty Rx website
Disclaimer: I received free samples of Beauty Rx Sunscreens for review purposes. All opinions expressed are 100% my own, based on personal experiences with the products.