I am very happy to announce one of my sponsors for the Fall Fashionista giveaway blog hop (October 14-19): timi & leslie! I recently received one of their gorgeous Dawn Convertible Bags for review – and I'll soon be giving one away, too!
I have been carrying diaper bags for almost 8 years now and have to say that timi & leslie have thought of everything a mom could need in a diaper bag and included it here – the amazing part is that the bag can do so much and look so fashionable. No one would ever guess that my bag is full of diapers, wipes, kids snacks and all the other fun things we moms must be armed with at all times.
The Dawn Convertible Bag (pictured above in Cloud Blue) can even fit a laptop! Plus, it includes a smaller handbag that can be used once you are past the diaper days.  The bag is made from a soft faux leather that is very easy to clean – just wipe when necessary.  (Several people have complimented my bag and all of them have thought the bag was made from real leather – it does look very much like real leather.)
Here are more of the great features you get with this bag:
A cross body, adjustable detachable strap so you can wear it hands free whenever you need to
Specially designed changing pad with a front mesh pocket where you can store your diapers, wipes and creams when you need to make a quick diaper change trip
A stylish clutch that you can use as your purse with interior credit card slots and an inside zipper pocket
An insulated bottle tote to keep your baby's bottle warm or cool
Matching stroller straps so you can hang your diaper bag from your stroller
Dirty clothes sac to keep your wet or dirty clothes contained, or a duster bag to keep your bag safe during storage.
Water resistant, light colored lining so you can easily see everything in your bag
Three exterior pockets
Six interior organizational pockets
Inside key fob – never lose your keys!
Measures 16"H x 13"W x 6.5"D x 9" handle drop
Dawn is available in Black, Taupe, Cloud Blue and Raspberry
Here is my photo of the Raspberry color bag I received: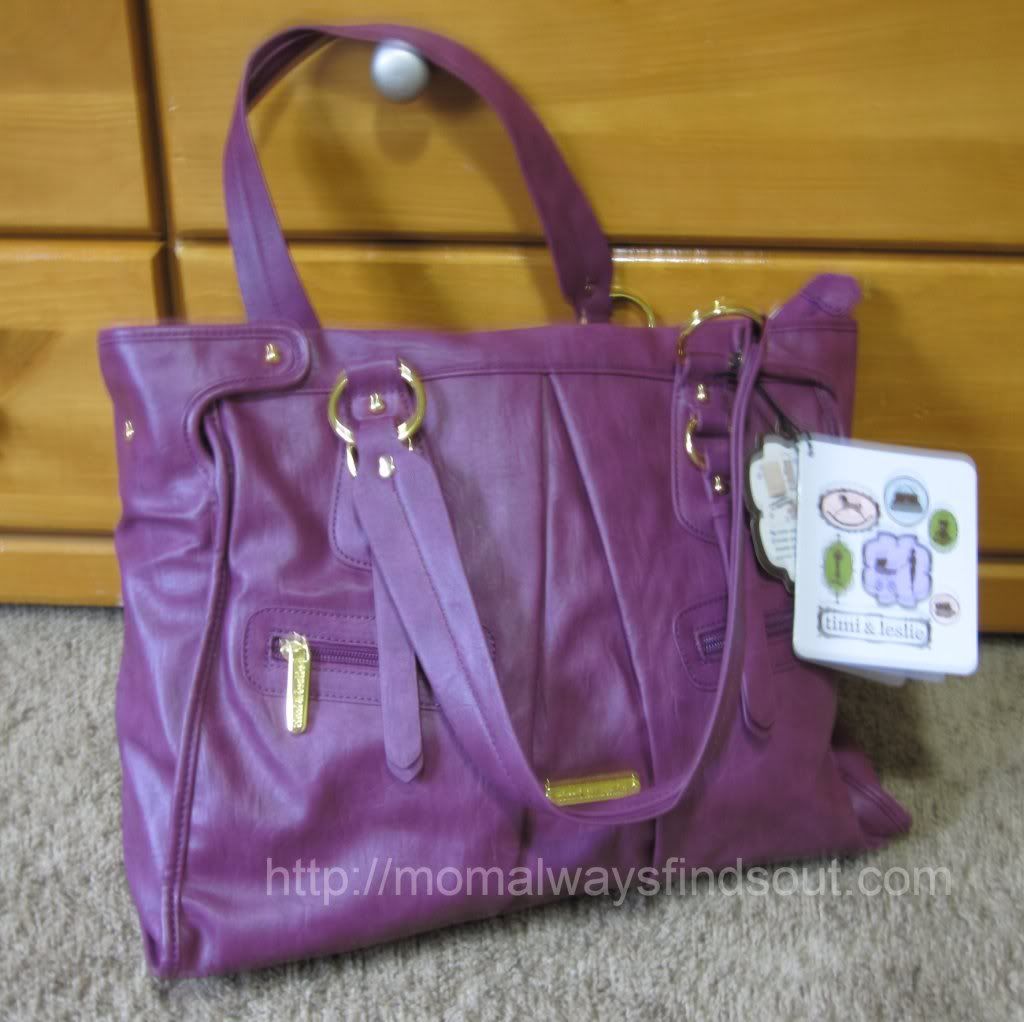 We have several different opinions at my house about the color of this bag. I say it's pink, my kids say it's purple. We compromise by saying it is a very purpley-pink. In any case, the color is very pretty and feminine. What do you think – is it purple or pink?
I love carrying the Dawn Convertible Bag everywhere I go.  It holds my stuff, the baby's stuff, and my other 3 kids' stuff with ease.  It's easy for me to keep it organized with all of the handy interior and exterior pockets.  My favorite part is that I finally have a diaper bag that doesn't announce to the world, "I'm a diaper bag!"  Instead, I feel like I have a very pretty bag that is functional and fashionable – and no one would ever guess it was a diaper bag!
Disclaimer: I received a timi & leslie Dawn Convertible Bag for review purposes. All opinions expressed are 100% my own.