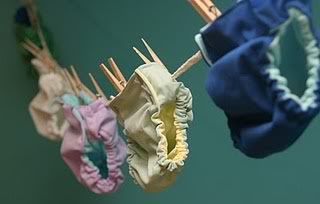 The Willow Store offers a unique option for cloth diapering parents: The Sprout Change reversible one-size "hybrid" diaper system. Fits babies from 5-40 pounds! What this basically means is that each diaper consists of a waterproof outer shell and an absorbent insert that can be adjusted to fit your baby from newborn all the way up to potty training time!
Each diaper shell is reversible and since it is a different color on either side, it's like having 2 diapers in one! The Super Saver organic hemp lay-in inserts are also one-size – simply fold them to fit your baby's needs for the trimmest, best fit. And guess what else? The Sprout Change diaper system is an affordable, premium quality diapering option for those on a budget.
One of the great features of the Sprout Change diaper shell is that it is completely customizable to fit your baby. I have to admit, I was a little bit nervous about using the hidden adjustment system, since I had never done anything like it before. I should not have worried one bit! The easy to follow directions are right on the packaging and it was SIMPLE to adjust the diaper cover to get the PERFECT fit. One adjustment takes care of the waist, and another adjustment takes care of the legs and voila! You have a custom fit on your baby's diapered bottom!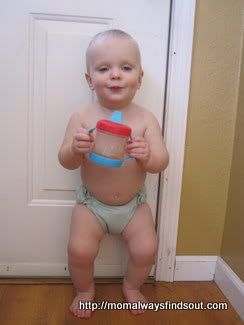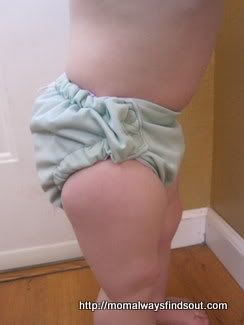 Sprout Change diaper shells are snaps – which I REALLY appreciate now that Bridger has figured out how to open up velcro diapers. Hopefully it will take him longer to figure out how snaps work!
Simply reuse the diaper shell unless soiled – turn it to the other side for a whole new color look! Only soft fabrics touch baby's skin – and the breathable shell prevents diaper rash.
The Sprout Change Super Saver inserts could not be easier to use – all you have to do is lay them in and go. For smaller babies, just fold them down as needed. You can use 2 inserts for heavy wetters/overnights.
Visit The Willow Store for more information on the innovative Sprout Change diaper system and/or to make a purchase.
WIN YOUR CHOICE of SPROUT CHANGE DIAPER! Giveaway will be open until May 1 at 11:59pm PST. USA residents.
MANDATORY ENTRY: Visit The Willow Store and Leave a Comment with your favorite color option of the Sprout Change diaper cover. Please include your Google Friend Connect name (you must be a GFC follower at Mom Always Finds Out to enter my giveaways, thanks!)
BONUS ENTRIES (Please leave a separate comment for each entry option you complete):
*Like THE WILLOW STORE on Facebook.
*Like MOM ALWAYS FINDS OUT on Facebook.
*Follow THE WILLOW STORE on Twitter.
*Follow MOM ALWAYS FINDS OUT on Twitter.
*TWEET and/or SHARE THIS GIVEAWAY LINK on FACEBOOK (1 entry daily!)
*Subscribe to my RSS feed via Reader or E-mail (see Right Sidebar for options)
Disclaimer: I received a Sprout Change diaper shell and 2 Super Saver inserts for review purposes. Opinions in this review are my own and based on my personal experiences with this product. The Willow Store is responsible for prize fulfillment.