It is very important for me to know that the products I use on my baby's skin are made of gentle, safe ingredients.  Tellurian Baby products are especially formulated to be as pure, natural and effective as possible.
More than 3 decades of experience has gone into creating Tellurian Baby products.  Their goal was to "create products that were pure and safe, easy to use and highly effective. We also wanted them to be as enjoyable as possible for both mom and baby."  My experience with these products has shown me that Tellurian Baby reached these goals.  I love the products for their effectiveness, but I have also found that using the products is an enjoyable experience for the baby and me.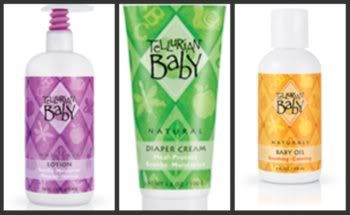 We received Tellurian Baby 2-N-1 Shampoo & Body Wash, Body Wash, Shampoo, Lotion, Diaper Cream and Baby Oil for review.  One of the first things I noticed about these products (besides the cute colors) was the generous size of the bottles.  They are a great value for the price.  Plus, they are pump bottles – so easy to use!
I put the Diaper Cream to the test immediately – I was actually about to go out and buy something for my baby's diaper rash the day that the Tellurian Baby package arrived.  Talk about perfect timing!  We used their Diaper Cream and I could see results almost immediately.  It really works well to keep my baby's bottom rash-free.
All of the bath and body products have been gentle on my baby's skin and I LOVE the way they smell!  Anyone who holds the baby after his bath with Tellurian Baby Body Wash and Lotion always says something about how good he smells.
As I was browsing the Tellurian Naturals site, I found great Baby Tips about using Tellurian Baby Oil for baby massage.  I had already been doing this with my baby and think it is an excellent idea.
More great things about Tellurian Baby products:
All products are hypoallergenic, dermatologist tested and free of Phthalates, Parabens, Formaldehyde, Propylene Glycol, 1,4 Dioxane and Mineral Oil.
All products are manufactured in a "state of the art" FDA licensed and Certified Organic manufacturing facility.
I highly recommend that you try Tellurian Baby products.  They are my new favorites and I don't know if I can ever use anything else again!  I love them and know you and your baby will, too.
Disclaimer:  I received free samples of Tellurian Baby products for review purposes.  All opinions expressed in this blog post are honest and 100% my own, based on personal experiences with the products.