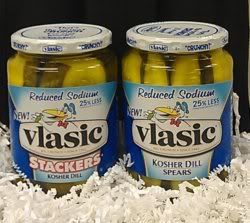 I grew up eating Vlasic brand pickles, and to this day, anytime I think of a jar of pickles, my brain automatically pictures the Vlasic Stork. Vlasic pickles are America's favorite pickle for good reason: They are the best!  I know when I buy Vlasic pickles that they are going to taste good
and
they are going to be crunchy.  I love Vlasic for making an excellent pickle.
All Vlasic pickles are Gluten-free, MSG-free, Fat-free and Kosher.  Believe it or not, Vlasic offers over 100 different flavors and sizes of pickles, peppers and relish.  The new "Better For You" product line includes the Reduced Sodium Kosher Dill Spears and Stackers.  The Reduced Sodium pickles contain 25% less sodium, which means one serving contains only 7% of the daily sodium intake values as outlined by the FDA and American Heart Association.  These make a great snack option for anyone looking to reduce their salt intake.
Everyone in my family loves pickles and we eat them quite often at home.  Before we tried the new Vlasic pickle products, I was a little concerned that a Reduced Sodium pickle would not have as much flavor as a regular pickle.  I was pleasantly surprised that these pickles still had a great, classic Vlasic taste that actually comes pretty close to the "real" thing.  In fact, I probably would not have noticed I was eating a Reduced Sodium pickle but for the fact that I knew what I was eating and I needed to pay close attention to its taste so I could write this review.
The Reduced Sodium stackers will be perfect on our hamburgers the next time we fire up the grill and I'm sure no one will even miss the salt.
Buy Vlasic pickles in your local grocery store. 
Visit the

Vlasic website

for product information, recipes, contests, and more.
Disclaimer:  I received samples of Vlasic Reduced Sodium pickles for review purposes.  All opinions expressed are 100% my own.