Did you know our nation has 84 million acres of the world's most beautiful scenery, historic landmarks, and cultural treasures? This week, you can have access to ALL of them for FREE as part of National Parks Week (April 16-24). Visit any of the 394 National Parks and explore, hike, learn, and enjoy the best of what America can offer.
Click the following link to see a list of National Park Week events going on around the country. Kayak, take a Full Moon Hike, see sharks, go on a Train Excursion – those are just a few of the possibilities from the list. I wish I lived closer to some of these places – there are so many things I'd love to see and do.
I feel fortunate to live with one of the United States most famous and amazing National Parks at my backdoor: Denali National Park. We try to visit at least a couple times per year. Here's a photo of the boys from our family camping trip last summer: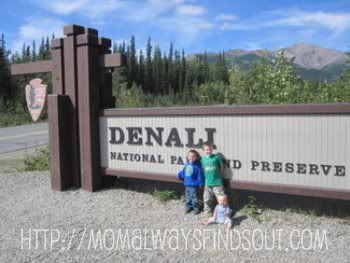 Which National Park is closest to you? Do you have a favorite one to visit? Share it in the comment section – I'd love to hear about it.