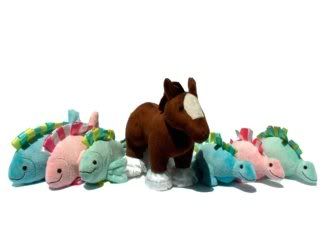 A few weeks ago, I was lucky enough to win a TagsMania plush tag toy giveaway on another blog. I had originally entered so that if I did win, I'd have a fun, NEW (not hand-me-down) toy to give to the baby I'm expecting later this month. Fast forward to me opening the TagsMania box in front of my 18-month-old son. He immediately started laughing and grabbing for the "Tagsdale" (Clydesdale) horse. How could I refuse to give it to him?
Here is my son "kissing" Tagsdale: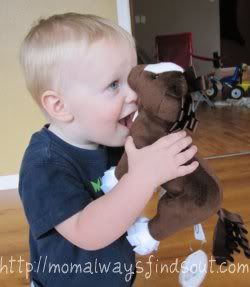 Babies and children love playing with tag toys, and TagsMania has a unique line of plush tag toys, rattles, and balls. My kids love the Tagsdale horse, he is so cute and soft – he even has a mane, tail, and hooves made out of tags. I recommend all parents head over to the TagsMania website and learn more about these award-winning toys.
Now that our Tagsdale has been "claimed" by my toddler, I'll be heading to TagsMania to see what I can get for the new baby, possibly a TagBall or TagRattle…and I'll make sure no little eyes are around to watch me open the package when it arrives!