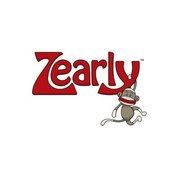 Zearly is a great new way to deal with your child's hand-me-down items. Sign up (FREE!), log in, and let Zearly take care of the rest.

Here's how it works:
Sign up to receive your postage paid bag to fill with gently used baby and children's clothes.
Fill your bag with hand-me-downs. Zearly will send UPS to come get your bag when it is ready. Any gently used children's clothing that qualify will earn you points.
Use your Zearly points on their site to get new and used children's clothes, gift certificates, and more.
Qualifying items: Free of stains or tears, with tag intact. All buttons/zippers/ties in working order. Items that do not qualify will be donated to charity.
Don't have enough points to buy what you want? You can purchase them on the Zearly website. The more you buy, the more you save. (examples: 80 points = $20, 126 points = $30, 480 points = $100)
For every order over 150 points or more, Zearly will throw in another bag as a bonus…and your first bag is FREE when you join Zearly! Shipping is also FREE when you spend 150 points per order. Otherwise, Zearly offers a flat shipping rate of 40 points on all clothing orders. They also offer a flat shipping rate of 10 points for orders of bags only or gift certificates only.
Don't need any kids' clothes? You can redeem your Zearly points for a gift card from the following retailers: Amazon.com, Target, Walmart, Handstand Kids, and Shop Sparrow LA.
I shopped around a bit on Zearly's site and was glad to find it very user-friendly and organized. Children's items are separated into categories for your shopping convenience, and you can also search all of Zearly's items by Brand, Color, Item, Theme, and Pattern.
Items start out for as little as 4 points per piece! Most clothing I saw was only 10 points per piece – and it was all cute and from quality name brands we like to wear! Zearly is a growing site and I'm sure as the word spreads and more people take advantage of this great service, there will be even more online selection to choose from.
Here are a couple of items I found on the Zearly site recently, along with their super low point "prices"!

Gymboree Dress (12-18 months) 10 points, Carters (2T) 10 points
Be sure to watch Zearly's website, Facebook page, and Twitter for contests – you can enter to win Zearly points!
Disclaimer: I was provided a Zearly shipping bag and 250 Zearly points free of charge in exchange for writing this blog post.