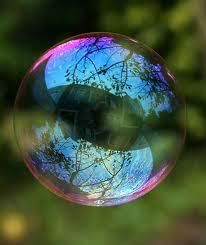 My kids will spend hours outside blowing bubbles in the summertime. Although bubble solutions can be fairly cheap to buy, when you go through gallons of it like we do every summer, it can add up. (If your children are like mine, we have frequent "accidents" where entire bottles have been lost in a single spill!)
Did you know you can make your own bubbles solution? However, all bubbles solution recipes are not created equally. Believe me, I have tried just soap mixed with water, and never found the right combination for good bubble producing concoctions! I finally gave up my own efforts and found some tried and true bubble solution with corn syrup recipes online (I have credited the authors and linked to the original sources).
If you're looking for an Eco-Friendly Bubble Solution Recipe, try this one:
1/2 cup of Eco-friendly dish detergent (if your detergent is concentrate cut the amount in half)
5 cups of soft water or distilled water
2 tablespoons of vegetable glycerin or light corn syrup or honey (*corn syrup or honey can attract bees and wasps)
Directions: Mix this together in a storage container and leave overnight or for a minimum of 4 hours.
We reuse our store-bought bubble containers and wands, but you can read more on how to make your own bubble wands here at the Clean and Green Mom.
RECIPE #2: Common Household Ingredient Bubble Formula Recipe:
2 1/2 quarts water
1/2 cup light corn syrup
1 cup clear liquid dish detergent (not soap for an automatic dishwasher)
Food coloring (optional)
Directions: Gently mix the water and corn syrup in a large container. Add the liquid dish detergent and lightly stir. Do not over mix or mixture will get too bubbly. Solution can be easily doubled or tripled. If making colored bubbles, mix in a couple of drops of food coloring. The homemade bubbles can be used immediately or kept for a couple weeks if stored in a covered, airtight container.
*Baby shampoo can be substituted for the liquid dish soap for no-tears bubbles.
This recipe is from Associated Content writer, Maggie Stewart, link to full article here.
Have you found an amazing bubble recipe? Please comment and share!