Laundry wash balls are bounding in the Mom Always Finds Out laundry lab lately! The Oransi Robby Wash Ball (Fuschia) is my newest laundry room test subject. This high efficiency, hypoallergenic wash ball works to clean your laundry by using small, round Ecofriendly laundry soap (called macro-molecule balls — the balls are a little bit bigger than the size of green peas) that last for about 2-3 months (120 washes) inside of the Robby Wash Ball (about the size of a tennis ball).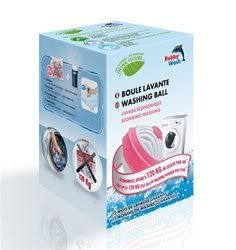 Robby Wash Balls come in a couple of different options: Fuschia Wash Balls for extra cleaning power on dark clothing (cold wash only) and Blue Wash Balls for both warm and cold temperature washes. Each Robby Wash Ball kit costs $32.95 and will last for up to 12 months or 360 washes. The Wash Ball kits come with a stain stick and three extra packets of the macro-molecules for when you need to refill the Robby ball.
One Robby Wash Ball kit will effectively clean a 10 pound load of laundry. For larger loads, you will need to use two wash balls to get the necessary cleaning power. The wash ball itself will last for 2-3 years, so you will only need to purchase the macro-molecule laundry soap refills. The Robby Wash Ball can be used by anyone, even people who have sensitive skin, including babies. The wash ball can be used to wash cloth diapers, but I was unable to test the fuschia ball with my baby's cloth diapers since fuschia is for cold washes only.
How well did the Robby Wash Ball clean my clothes? I used the Fuschia Wash Ball on my colored clothing and thought it did a fine job of washing, including taking care of a few minor dirt stains and any odors. I applied the Robby stain stick to a couple of stained areas before tossing into the wash, and those areas came clean. The wash ball is supposed to leave a light fragrance on the clean clothing, but if it did, I did not really notice it. My clothes came out soft and clean.
My other thoughts on the Robby Wash Ball? It was simple to use, although it is necessary for my large loads of laundry to use 2 wash balls, which doubles my initial cost. However, it still pans out to be an economical choice over purchasing conventional laundry detergents and it is definitely a good choice for the environment – saving hundreds of pounds of laundry detergent from going down the drain.
One thing I really enjoy about using wash balls is that they eliminate the need to measure detergent – I just toss the wash ball into the machine and it does the rest. I also like that I can leave the wash ball in the machine so that it is ready for the next load.
Would you like to try Robby Wash Balls? Visit the Oransi website for more information and to purchase their products.
ENTER TO WIN AN ORANSI ROBBY WASH BALL here at Mom Always Finds Out!
One lucky reader will get to try a Robby Wash Ball kit for free! USA residents (no PO Boxes, please) can enter to win this giveaway between now and June 18 at 11:59pm PST. Winner will be randomly chosen by the WordPress plugin "And The Winner Is" and emailed with 48 hours to claim their prize.
MANDATORY ENTRY: Please follow Mom Always Finds Out on Google Friend Connect and visit the Oransi site (find link in above review) so you can leave a comment telling me your favorite thing about the Oransi Robby Wash Balls.
BONUS ENTRIES:
*Like Mom Always Finds Out on Facebook
*Follow Mom Always Finds Out on Twitter
*Tweet and/or Facebook Share this giveaway link (one entry per day, per method)
*Add this giveaway to any giveaway linky on other family-friendly blogs (make sure it isn't already listed) – unlimited entries!
*FUN ENTRY: Share your favorite laundry tip and/or ways to get kids to help with the laundry. (I need ideas!)
Disclaimer: I was provided a Fushia Robby Wash Ball kit for review purposes. Opinions expressed in this review are honest and my own, based on experiences with this product. Sponsor is responsible for prize fulfillment.