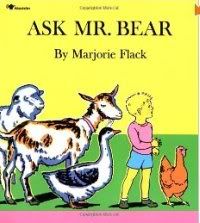 Ask Mr. Bear by Marjorie Flack
Children's Book Review
Once there was a boy named Danny.
One day Danny's mother had a birthday.
Danny said to himself, "What shall I give my mother for her birthday?"

And so begins Danny's quest to find a birthday present for his mother. He meets a variety of farm birds and animals, including a hen, goose, goat, sheep and cow. Nothing they can offer to Danny as a gift for his mother is quite right. The cow advises Danny to pay a visit to Mr. Bear and ask his advice. Danny finds Mr. Bear, who whispers the secret gift idea in Danny's ear. Danny hurries home to have his mother guess what her birthday present is going to be, and when she gives up, he gives her… a Big Birthday Bear Hug!
I read this book to my 4-year-old and almost 2-year-old as part of the Before Five in a Row curriculum. The first thing I noticed about it was the fact that it is was published in 1932 – this book has been around a long time. The illustrations are good, but old-fashioned looking, so I did not know how well this book would be received by my children – who usually read more modern books.
I should not have worried about the illustrations, because no one seemed to notice they were old-fashioned but me. The story has elements of repetition and offers opportunities for learning animals, memorization, and even physical activity. When Danny skipped, my children skipped. When Danny hopped, my children hopped. They also trotted, ran and walked along with Danny until he found Mr. Bear. My younger son loved when we made each of the farm animals sounds. It was so easy for me to use with the activities found in the BFIAR as well as make up my own. We even pulled out our hand puppets to act out the story!
The best part of the book is at the end when Danny gives his mother a Big Birthday Bear Hug. My children loved this part and took turns giving me bear hugs.
Ask Mr. Bear is a sweet, simple story that has endured for generations. This is an enjoyable classic book that is great for reading and acting out loud with preschool aged children.