Dandelion Earth-Friendly Goods is one of my favorite places. Their selection of baby items includes some of the cutest things I have ever seen, including these handmade, crochet baby rattles.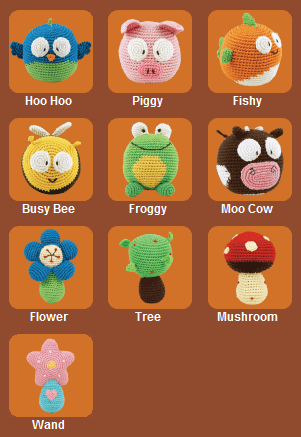 We received Hoo Hoo and Froggy for our review (pictured below). Are they not absolutely adorable? Each one is hand woven from silky bamboo thread and stuffed with natural corn fiber filling. They are so soft and squishy, perfect for babies to hug and love on. Check out Hoo Hoo's wings and little green cowlick – just right for baby to teethe on – Froggy's eyes and feet will be good teethers, too.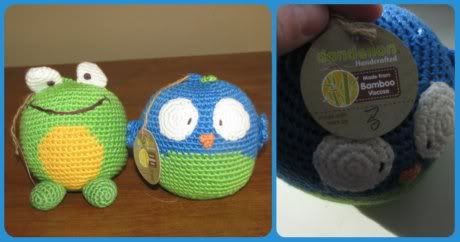 What else is special about these baby rattles? Each one is crocheted by a work at home mom in Shanghai, China, and you will see her name handwritten on the tag. I included a photo of our Hoo Hoo's tag on the above photo.  You can see the handwritten character.
My 4-month-old enjoys looking at his Dandelion rattles during Tummy Time. The bright colors and the character's faces really catch his eye. Once he's a little older, he will enjoy holding them and shaking them to hear the little rattle inside. Plus, they are round and roll around on the ground for him to chase when he starts crawling. Hoo Hoo and Froggy are going to be his fun playmates for a long time.
I love that these rattles are machine washable, which makes keeping them clean a whole lot easier for this mama. The cuteness factor of these rattles is off the charts! I definitely think these are an Eco-ssential Baby item.
SHOP DANDELION EARTH-FRIENDLY GOODS
You can also read another one my Dandelion Earth Friendly Goods reviews HERE to learn more about their corn tableware and bamboo plush animals.
Disclaimer: I received free samples of handmade rattles for review purposes. All opinions expressed are 100% my own.