ecoSTORE USA is a great resource for GREEN products: Household cleaning products, Bath & Body, Baby Care, and Pet Care. All of their products are made from plant- and mineral-based ingredients and are free of toxic chemicals. You can bring your home closer to nature by using their environmentally safe solutions.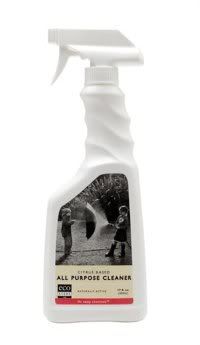 A couple of ecoSTORE products I have had the opportunity to use are the All-Purpose Cleaner and the Laundry Liquid. The All-Purpose Cleaner is perfect for parents like me, who are constantly cleaning from room to room and don't want to spray nasty chemicals around their children (or myself, for that matter!). I found that the All-Purpose Cleaner worked great for everyday spills and clean ups in my kitchen and bathroom areas. Just to show you how safe and non-toxic this cleaner is, here is the list of ingredients:
• D-Limonene (from citrus)
• Palm and coconut based non-ionic and anionic surfactants
• Fatty acid derivative
• Ethanol
• Filtered water
The Laundry Liquid also has a short, simple list of Eco-Friendly ingredients:
• Palm and Coconut based non-ionic and anionic surfactants
• Fatty acid derivative
• Mineral hydroxide
• Certified organic Eucalyptus oil
The nice Eucalyptus scent was noticeable when I washed our clothes and while they were wet, but once they were dry, the clothes were clean and unscented. The plant-based Laundry Liquid is ideal for children's clothing and those with sensitive skin – no chemical residues are left behind to cause irritation.
I love that many of their products are super- concentrated (like the Laundry Liquid), which means I get more for my money! And ecoSTORE pricing is VERY budget-friendly, so going green doesn't mean costing you a fortune. Orders over $25 get FREE SHIPPING!
Learn about more of their Eco-Friendly products and and purchase them online at the ecoSTORE USA website. You can also see a list of select retailers of ecoSTORE USA products.
Connect with ecoSTORE USA on Facebook to get the latest news on deals and contest information.
Follow ecoSTORE USA on Twitter.
Disclaimer: I was provided ecoSTORE USA Laundry Liquid and All Purpose Cleaner for review purposes. No other form of compensation was received in exchange for this written review post. All opinions expressed are my own, honest opinions based on my experiences with the products.