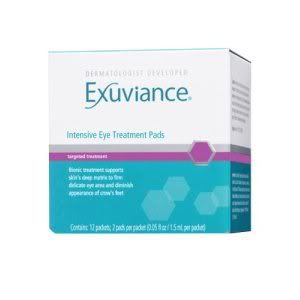 As a mom to a new baby who still gets his days and nights confused, I can't remember the last time I slept more than a couple hours in a row. I know that my lack of sleep is especially apparent around my tired eyes, so I jumped at the chance to try a product that refreshes and revitalizes the delicate skin in that area. The
Exuviance
Intensive Eye Treatment Patch is like giving yourself a mini spa treatment. My eye areas felt fresh, cool, and just plain better after using them.
The intensive eye treatment uses Lactobionic Acid and Pro-Vitamins A, C and E to do the following:
Firm & Hydrate
Stimulate Cell Renewal
Minimize Fine Lines & Wrinkles
These are very easy to use. Simply cleanse your face, open a pouch (each pouch contains 2 pads), and apply a pad underneath each eye. Leave them on for 10-30 minutes (relax and enjoy!) before you remove them. Smooth any remaining solution into your skin.
I recently reviewed another Exuviance anti-aging skin care product (read about it HERE) and absolutely love it. These Eye Treatment Pads did not disappoint me, either. If you are looking for a way to pamper and rejuvenate your eyes, try giving yourself an Exuviance Intensive Eye Treatment.
Disclaimer: I received samples of Exuviance Intensive Eye Treatment Pads for review purposes. All opinions expressed are my own.