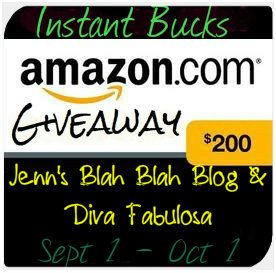 Instant Bucks $200 Amazon Blast

Bloggers, are you looking for a great opportunity to help promote an exciting giveaway event? Congratulations, your search is over. Join in the Amazon.com $200 Gift Card giveaway event, sponsored by Instant Bucks. The event will take place from 9/1-10/1.
Another great event brought to you by Jenn's Blah Blah Blog and Diva Fabulosa!
Instant Bucks is similar to Superpoints, check them out and CLICK HERE TO SIGN UP!
What do you get for helping promote this awesome giveaway?
FREE Facebook Link
Additional Links $2
Daily Votes $3
Learn more and sign up for this wonderful Amazon Giveaway.