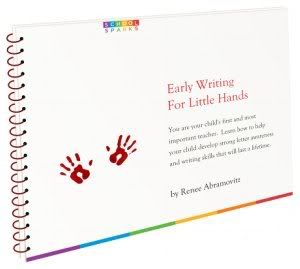 If you have a preschool or Kindergarten age child, you are going to love the learning resources, such as the Kindergarten worksheets, that you can download for FREE at School Sparks.
This website was recently launched by a retired preschool and Kindergarten teacher in order to pass on her early childhood education expertise. I have been clicking on every link at the School Sparks website and am thrilled with the information I am finding there: Free Worksheets, Assessment For School Readiness, Early Childhood Development Areas, and a Blog – just to name a few!
A brand new e-Book, "Early Writing For Little Hands," is available for free download at the School Sparks site. You will find it on the right side of the page. The e-book discusses how to introduce your child to the 26 letters, includes easy tips for teaching your child the proper pencil grip for writing, and includes 52 alphabet tracing worksheets (one for each uppercase letter and lowercase letter).
My son will be 4 next month, which means that it is time for me to gear up and prepare him for Kindergarten. The ideas and worksheets from the e-Book are exactly what I need to get started. The School Spark website is going to be an excellent resource for us as we get ready for school. I hope you will take a look at the e-Book and the website, too. Let me know what you think in the comments section!
Thank you, Renee, for letting me know about your e-Book and School Sparks website. I appreciate all of the great information you are sharing for free – and am happy I can let other Mom Always Finds Out readers know about it.