This post brought to you by Wendy's. The content and opinions expressed below are that of Mom Always Finds Out.
My kids look forward to their Halloween care package from my mom every year. She always includes at least one or two Wendy's Halloween Coupon Books for them. It's her way of sending them a Frosty treat they can enjoy anytime.
We use our Wendy's free Jr. Frosty coupons to celebrate the end of the school week. On the way home from school on Fridays, I'll go through the Wendy's drive-through and get each of the kids a free Jr. Frosty with Wendy's coupons. It's a fun little tradition we like to do until we run out of coupons!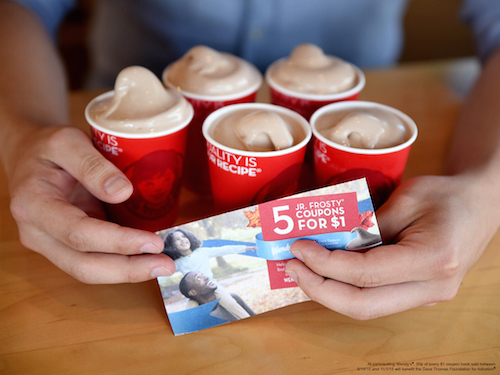 Each Wendy'a Halloween Coupon booklet costs $1 and has TEN free Jr. Frosty coupons inside.* It's a GREAT deal and each purchase supports a GREAT cause. Funds from the sales of the coupons books will go to the Dave Thomas Foundation for Adoption to support programs such as Wendy's Wonderful Kids.** These programs help foster kids find permanent, loving homes. 
Wendy's Founder, Dave Thomas, believed in the importance of families. He himself was adopted. Today, more than 130,000 children are in foster care waiting to find their forever families. Wendy's and The Dave Thomas Foundation for Adoption has been helping to match kids with their families since 1992. You can learn more about foster care and adoption at Wendy's adoption page.
Wendy's Halloween Coupon Books are such an easy way for me – and you – to help children who are currently in foster care. Plus, we get Frosty treats back in return. I think it's an awesome program and look forward to it every Halloween.
This year, I'm going to buy Wendy's Halloween Coupon Books so I can give out a free Frosty coupon to each of our Trick or Treaters. It's really simple to take the coupons out of the booklet so you can hand them out individually if you want.
My sister is an elementary school teacher, and she stocks up on the Free Frosty coupon books every Halloween. She gives each of her students a Free Frosty coupon instead of candy for Halloween. She has 25-30 students in her class, so the coupons are a very cost-effective way for her to give everyone a treat. The kids really like getting a free Frosty treat. It is something different than what everyone else is giving out, and they can use it anytime.
Other fun ways to use Wendy's Halloween Coupon Books:
The coupons make great prizes for Halloween parties at home and at school.
Stick a coupon book in goodie bags and party favors.
Even if you don't give them out for Halloween, pick up Free Frosty Coupon Booklets to use anytime!
Do you want to give out Wendy's Halloween Coupon Books with Free Frosty coupons to your Trick or Treaters this year? The coupon books are available at Wendy's for $1 each now through November 1st.
* Number of coupons per book vary based on location
** $0.85 cents of every dollar from the Halloween Coupon Books will go to support the Dave Thomas Foundation for Adoption.