Are LEGO toys on your child's Holiday Wish List?  Here's a little something to keep them busy the entire holiday season AND a great holiday tradition.  This is a MUST HAVE at my house…
One of our favorite holiday traditions is the Advent Calendar – and the LEGO Advent Calendars for 2011 are NOW AVAILABLE and include a LEGO Star Wars themed set and LEGO City themed set.
The LEGO advent sets are so fun and amazingly, my children do not open up every single day of the advent at once (I half expect them to do that!). The daily anticipation of a new LEGO figure or piece is so much fun.
I highly recommend going out and getting your LEGO advent calendars now so you'll be ready on December 1. These disappear quickly from the store shelves and are next to impossible to find – so you may consider ordering them online to save yourself the hassle of stalking/calling  Toy Store sales people 3 times a day for 2 weeks until the new shipment comes in (yes, I was determined to get this set last year and it finally paid off).
Here's a look at the 2011 LEGO Advent Calendar sets: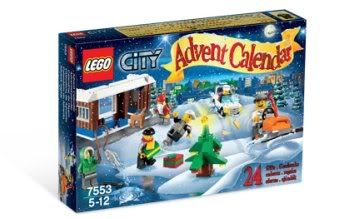 About the LEGO City Advent Calendar:
Gifts include 6 minifigures (2 police men, 2 robbers, 1 fisher and 1 Santa Claus)
Build larger models using bricks from three different gift days
Includes 2 cool snowmobiles, a police dog, a Christmas tree, a mini police station and much more
24 days of fun, 232 pieces
About the Star Wars Advent Calendar:
Includes 8 LEGO® minifigures
Features an exclusive version of Yoda™ not available anywhere else
Vehicles include mini Millennium Falcon and X-wing Starfighter
Open a window every day to reveal 24 different LEGO® Star Wars gifts! 266 pieces total
I have also found that eBay is a good place to get past Advent Calendar sets that are no longer available in stores. Although you may have to pay more for them.
This is not a sponsored post. The post contains my affiliate link.