This post brought to you by Walmart. All opinions are 100% mine.

Having a baby is expensive. And I'm not even talking about the hospital bills! I have four kids now, and have learned little tricks to help me save money on the things babies need. One of the best tricks I have learned is to do my research on the things I want, then shop around to find the best prices.
Babies need a lot of things: diapers, clothes and proper nutrition. Those things can make a huge dent in the family budget. If your baby drinks infant formula, count on spending hundreds of dollars per year just for that. But there are ways to save on formula. Learn about all your baby formula options, and be sure include the budget-friendly Parent's Choice™ formulas in your research. Parent's Choice Formulas are clinically proven to be as well tolerated as the national brands.
Parent's Choice™ Formulas cost much less than other leading brands. Just like the leading brands, Parent's Choice™ meets FDA standards for infant formula, contains DHA and ARA (which may support brain and eye development), and probiotics to support your baby's immune system. You can visit the Parent's Choice™ webpage to see all the comparisons between the Parent's Choice™ formulas and Similac® and Enfamil ®formulas.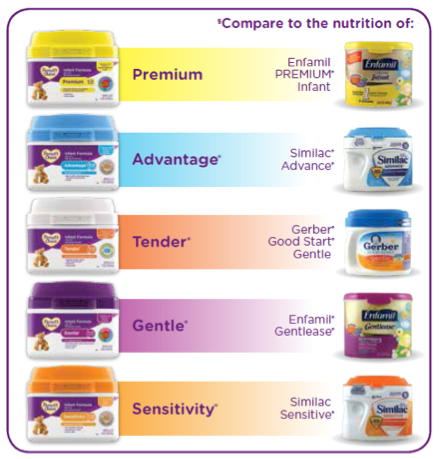 Parents are saving as much as $600 when they switch to Parent's Choice™ Baby Formula! My youngest child is 2 years old, so even though we don't buy formula, I was curious to see what the price difference would be. It's easy to calculate your savings online at the Parent's Choice™ webpage.
I compared Parent's Choice™ Advantage to the Similac Advance baby formula. I would save $574.74 per year with Parent's Choice™! That means a savings of $47.22 a month that can go towards baby's other needs…like diapers, a college savings account, and more.
Find out exactly how much YOU can save when you visit Walmart's Parent's Choice™ webpage. Let me know what you find out!
Do you have any tricks for saving money on baby's needs? How much money can you save by switching to Parent's Choice formula? How will you spend the extra money?