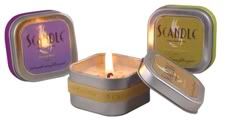 I am happy to announce Scandle as one of my sponsors for the upcoming "I Love Mommy" Mother's Day event (May 5-10). Scandle makes their body candles from 100% natural ingredients.
These pampering spa candles are the perfect gift for Mother's Day and are available in more than 18 different scents. Each travel candle comes in a cute tin for the budget-friendly price of $13.95. You can purchase the larger size candle in a refillable ceramic canister for $22.95.
My Shimmering Lotion Travel Candle for review was the Limited Edition for Spring "Lily of the Valley." The lovely floral scent was very nice and light. Since the wax melts at a low heat (2 degrees above body temperature), it produces a lotion that can be used as a massage oil or moisturizer. You can even use it as part of your manicure/pedicure routine. The "shimmering" part of the candle comes into play when you use the melted wax on your skin – it will add a nice glistening effect!
I was very curious to try my Scandle candle's wax as a moisturizer, and couldn't wait to test it and see if it really worked. I lit the candle, and once the wax started melting into lotion, I poured a small amount into my hand – it was warm and soothing to the touch. I rubbed it into my skin and it absorbed right away, leaving behind the light floral scent. My skin felt smooth and had a soft glow. This lotion is also perfect for a warm body massage oil.
The Scandle Shimmering Lotion Travel Candle is a great gift idea either on its own or as part of a spa/aromatheraphy/skin care themed gift basket for Mom.
Visit the Scandle website to learn more and to purchase Shimmering Lotion Candles.
Don't forget to check back at Mom Always Finds Out during the "I Love Mommy" giveaway blog hop from May 5-10 for your chance to win a Scandle Shimmering Lotion Travel Candle.
Disclaimer: I was provided a Scandle Shimmering Lotion Travel Candle for review purposes. This review reflects my own opinions of the product based on my personal experiences with it.