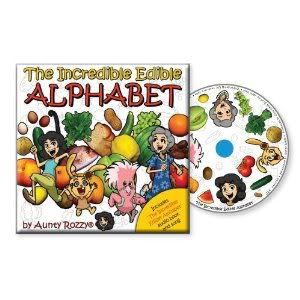 The Incredible Edible Alphabet audio book and CD, by Australian author and musician, Ros Tesoriero aka Aunty Rozzy, is a fun way to teach children the alphabet and promote healthy eating habits at the same time. The colorful illustrations are perfect for kids to focus on while listening to the book's accompanying musical CD. Aunty Rozzy's Incredible Edible Alphabet song has a catchy tune and beat that had my children dancing around the room.
I like that the book is illustrated with both cartoons and real photographs. Every letter of the alphabet is represented by a real photograph of a fruit or vegetable. Using real photos makes it easy to identify the healthy food that goes with the letters. The Incredible Edible Alphabet makes learning about ABCs and nutritious foods entertaining for everyone.
Believe it or not, Aunty Rozzy's book even taught me a thing or two! The first time I read the book, I had no idea what the letter Q's food, the "Quince," was supposed to be. I looked it up and learned that a quince is a pear-shaped fruit. (Did you already know that?)
Would you like a taste of The Incredible Edible Alphabet? Visit YouTube and watch an animated version of The Incredible Edible Alphabet book and song. It's guaranteed to get your children running over to the computer to see what is going on! (Mine did!)
G is for Great Grapes, H is for Hip Honeydew, I is for Icy Ice cream, J is for Jazzy Jam, K is for Kicking Kiwi fruit, L is for Luscious Lemons, It's the Incredible Edible Alphabet!
Purchase The Incredible Edible Alphabet audio book and CD at Amazon.com.
Disclaimer: I received a free copy of The Incredible Edible Alphabet audio book and CD in exchange for this review. All opinions expressed are 100% my own, based on my experiences with the product.