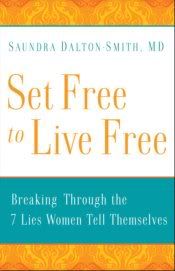 Author Saundra Dalton-Smith, M.D. will be a sponsor for the "I Love Mommy" giveaway blog hop event taking place May 5-10. Her book, Set Free to Live Free: Breaking Through the 7 Lies Women Tell Themselves, shows women how to break free from fear, insecurity, and other lies they tell themselves in to a life of health and balance.
From the Back Cover:
Imagine life with unlimited possibility, where fear, misconceptions, and insecurities don't have the power to rob you of your potential or your dreams. Many women have trouble seeing this vision because they are bound by lies that keep them from living free.
In Set Free to Live Free, Saundra Dalton-Smith shows you how to break free from seven mental ties that hold you back and steal your joy, like striving for perfection, comparing yourself to others, and having an all-or-nothing attitude. Through compelling stories and inspirational writing, she encourages you to embrace spontaneity, be transparent, nurture your body, and cultivate a balanced life.
Saundra Dalton-Smith, MD, is a board-certified internal medicine physician who has been practicing medicine since 1999. She treats a predominantly female population and has firsthand experience with the struggles women face trying to imitate the American dream. Dr. Dalton-Smith has been an adjunct faculty member at Baker College and Davenport University in Michigan. She lives in Alabama.
BUY the book, Set Free To Live Free, on Amazon.
CONNECT with Set Free to Live Free on Facebook. From April 24-May 6, go there to enter to win a Mother's Day giveaway for a Mom Care Package ($150 value).
For the "I Love Mommy" event, Saundra Dalton-Smith, M.D., is sponsoring a $15 Amazon Gift Code (good for any purchase), however, she hopes that the winner will use it towards the purchase of her book.