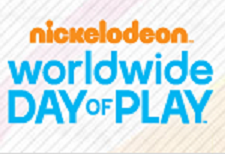 One Saturday a few years ago, my kids turned on the TV and came running to me screaming, "Mommy, our TV is broken!" Come to find out, the TV wasn't broken, it was Nickelodeon's Worldwide Day of Play time. During a certain number of hours on the Worldwide Day of play, Nick goes blank in order to encourage families to spend time playing together.
This year's event is going to be huge! If you are lucky enough to live near the Washington DC area, you really should check out all the fun events going on at the President's Park — including performances by Big Time Rush and The Fresh Beat Band.
For the rest of us who live nowhere near DC, we can find partner events by clicking on "Celebrate in Your Area" information. Partners include the National Park Service, which will be offering FREE admission to all National Parks on September 24.
No matter where you live, celebrate the Worldwide Day of Play by Getting Out & Getting Active with your family!
I'm hoping for sunshine this Saturday so that my family can head to Hatcher Pass and go for a hike and take some pictures with the fall leaves in the background before they are all gone (winter's coming fast to Alaska this year).
How will YOUR family celebrate? Let me know in the comments!