If I want to know what my children have been up to during the day, all I have to do is take a look at their dirty laundry. Seriously, the stains tell a very accurate story. Toothpaste dribbles on my boys' shirts let me know they did remember to brush their teeth, grape juice droplets let me know they aren't thirsty, marker ink streaks indicate they colored a picture or wall somewhere, and dirt, mud and grass stains are a sure sign they had fun playing outside.
The spots may tell me some fun stories, but at the end of the day, it's my job to get rid of these tattletale stains! OxiClean Versatile Stain Remover is a laundry room staple at my house. Its oxygen-based, chlorine-free stain removal formula is safe for white and colored clothing. I can use it to boost my laundry detergent's power by adding OxiClean to every load. Or, for stubborn stains, I soak laundry items in OxiClean before I wash them.
I recently received an OxiClean bucket along with a package of OxiClean Versatile Stain Remover for review. OxiClean is so easy to use and gets rid of all our stains. Simply fill your bucket or sink with water, add the recommended amount of OxiClean, and soak for a few hours (soak overnight for maximum stain removal action).  Then, wash in your machine as normal.
Here are some pictures of a recent OxiClean soak at my house:

A Before and After shot of my toddlers dirt and marker stained sweatpants: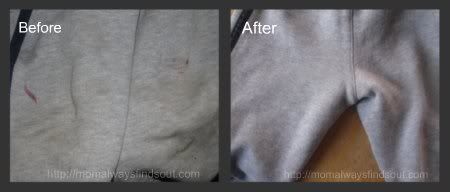 The dirt and marker stains disappeared with OxiClean!  In addition to getting rid of stains, I like to use OxiClean to brighten our whites. It also works wonders at removing stubborn yellow baby stains from my baby's onesies and clothes.
I have also learned that OxiClean isn't just for laundry. You can also use it to treat stains on carpet, upholstery, and hard surfaces like tile. The next time I have a carpet or rug stain, I plan to use OxiClean to get it out.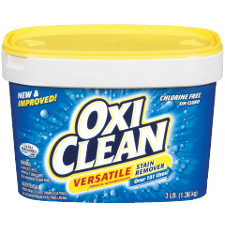 Learn more about OxiClean and how its many uses can help you, too!
Disclosure: I wrote this review while participating in a blog tour by Mom Central Consulting on behalf of OxiClean and received OxiClean items to facilitate my review and a promotional item to thank me for taking the time to participate.