One of my favorite things to do at the end of the summer is pick berries and make jam. It's my way to save a little bit of summer in a jar. This year, I tried something new and picked golden raspberries. Aren't they pretty?
I also picked red raspberries so I could make 2 different colors of raspberry jam. Here are a few jars of the finished product – a batch of golden raspberry jam and a batch made with red raspberries. I think the red raspberry jam is still my favorite!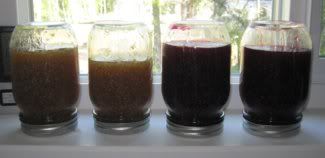 The recipe I like to use is a simple, classic raspberry jam recipe that makes delicious jam perfect for canning. Since raspberries are naturally high in pectin, you don't need to add anything to the raspberries besides sugar. (Pectin is often added as a thickener.)
I have learned it is a good idea to add sugar to your berries on an as-needed basis while you are cooking it. Last year, the berries I picked were super sweet, so I used about half the amount of sugar listed in the recipe. This year, the berries are a little more tart — so I ended up adding more sugar than last year.  I think I used around 3 cups this year.
Save a little bit of summer this year by making some delicious jam to enjoy all winter long!
Raspberry Jam Recipe (no pectin

)
Ingredients:
4 cups raspberries
4 cups sugar
Step 1: Put sugar into an oven safe dish and warm in a 250 degree oven for 15 minutes. (Warm sugar will dissolve better into your berries in step 3.)
Step 2: Put berries into saucepan. Mash with a potato masher. Bring berries to a boil and allow to boil for 1 full minute while stirring constantly.
Step 3: Add the warm sugar bit by bit, stirring constantly. Return mixture to a boil (stirring constantly) and allow to boil for about 5-10 minutes or until a gel forms. *Note: The gel is not going to be super thick, but you can test the mixture's thickness by dipping a cold spoon into the mixture.  If the gel forms a  layer on the spoon, it is ready to put into your jars.  Sometimes this step can take up to 15 minutes.
Step 4: Remove from heat and pour into jars. *If you plan to can your jam for long term storage, you can use a boiling water bath canning procedure.
Yield: About 2 quarts.