I have a secret family recipe for Rhubarb Slush. It's really, really good! And since it's not MY family's secret recipe, I don't mind sharing it!  (I have permission to share.)
I had never heard of rhubarb until I moved to Alaska and quickly learned that rhubarb plants are a staple in every Alaskan's vegetable garden. It is super easy to grow if you live in a northern climate. The huge leaves are poisonous, but the celery-like stalks are commonly used in pies, cakes, breads, muffins and more – like the slush recipe you will find below.
Just in case you are curious as to what a rhubarb plant looks like, here's a picture: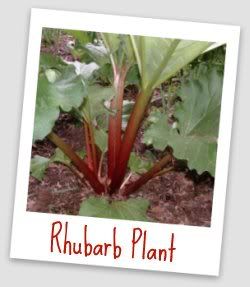 Rhubarb Slush Recipe and Directions
Fill a large pot with about 8-10 cups of chopped rhubarb and cover with water. Bring to a hard boil for 5 minutes, then strain – keeping liquid. (Discard rhubarb.)
To the above rhubarb juice, add:
3 cups sugar
2 cups water
Boil until sugar is completely dissolved.
Measure out 2 quarts of rhubarb juice.
Add:
46 ounces of pineapple juice
2 cups cold water
1/4 cup lemon juice
Freeze in any size of containers as desired. When ready to serve, mix 2 parts frozen rhubarb juice juice to 1 part soda (Sprite, 7 Up, or other light-colored soda). Drink will be slushy.
Makes 6 quarts.