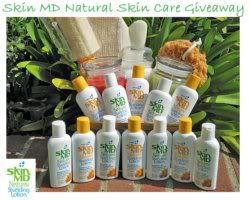 Just last week, I posted a review about how much I love using Skin MD natural skin care products. Well, guess what? Right now at the Skin MD blog, you can enter to win an amazing prize package that includes the following: 6 bottles of Skin MD Natural Original, 6 bottles of Skin MD Natural SPF 15, a natural loofah sponge with wood handle, natural lavender epsom salt bath soak, a natural shower massage glove, 2 relaxing scented candles, a soothing gel eye mask, and a sea sponge.
There will also be 100 runner-ups who will receive free samples of Skin MD. CLICK HERE to be taken to the Skin MD blog so that you can enter to win!
Entry Rules *Taken From Skin MD Blog*:Entries must be received by 12:00am May 15th 2011. All participants must be 18 years or older or have parents permission to enter. Must be a resident of the US or Canada. Winner will be announced here on the blog and will have 48 hours to respond or a new winner will be selected. Winner may also be contacted through email, Twitter, or Facebook.
I've already entered — and hope you will too! Good luck and let me know if you win!