When I drink water, I don't like it to taste like anything but pure water. I grew up drinking tap water that was so heavily chlorinated, I may as well have been drinking out of a swimming pool. A ZeroWater filtration pitcher would have been nice to have because it removes chlorine taste as well as all dissolved solids from tap water, so that the water tastes fresh and pure. These days, I don't live in an area where my tap water is heavily chlorinated, but it does contain a lot of minerals that negatively impact our water's taste. Instead of buying bottled water, we prefer to save money by filtering our drinking water with products such as
ZeroWater
.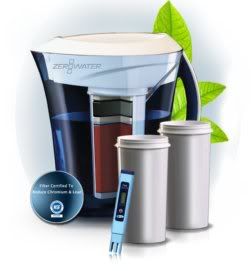 My family recently received a ZeroWater 10 cup pitcher for review. This kit comes with the pitcher, filter, TDS meter, User Manual and $35 in coupons for future filter purchases.
The Total Dissolved Solids (TDS) meter is really handy, because it allows you to measure the amount of dissolved solids in your water. I measured the TDS levels before and after I filtered my home's tap water with the ZeroWater pitcher. The amount of dissolved solids did noticeably decrease after I filtered the water. The ZeroWater website has a TDS feature that allows you to check your levels by entering your zip code.
The ZeroWater pitcher is certified to reduce chromium and lead, as well as Aluminum, Lead, Zinc, Nitrate and more. It also features a convenient pull and pour button so that it is easy for you to fill your cup without taking the pitcher out of the refrigerator if you don't want to. I liked it because even my children could use it to fill their cups by themselves.
I thought the ZeroWater pitcher improved our water's taste, and I KNOW it removed the dissolved solids because I saw it for myself on the TDS meter levels.
ZeroWater products are available for purchase at many major retailers such as Target, Sears, Costco and Bed, Bath & Beyond. You can also purchase them at ZeroWater online.
LEARN MORE about the ZeroWater filtration system
Connect with ZeroWater on Facebook
Disclaimer: I received a free sample of ZeroWater products for review purposes. All opinions expressed are 100& my own.