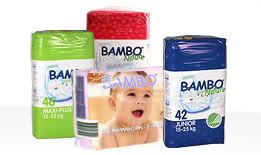 Yes, you read the title correctly:
Bambo Nature
Eco-Friendly DISPOSABLE Baby Diapers. Eco-Friendly is not usually a word used to describe disposable diapers, until now. I recently became aware of Bambo Nature diapers and just had to try them to see what they were all about.  The idea of a disposable diaper with a low eco-footprint really appeals to me – and I think it will to you, too.
We received our package and as you tell from the half empty package, I have liked using them on my toddler!
Here are some facts about Bambo Nature that I really like:
They are certified free of dangerous chemicals and all known allergens
They are 75% biodegradable
They were awarded the Nordic Swan Eco Label, the "Greenest Diaper in Europe"
Things I have loved about using Bambo Nature on my 23-month-old:
No leaks! Great overnight absorbency
An indicator strip lets me know when the diaper is wet (blue writing blurs when wet, shown above in photo)
Trim, snug fit
BREATHABLE layers, just like a CLOTH diaper!
The Bambo Nature website lists every single ingredient from the fluff to the tape and glue that goes into their diapers. Every bit of it is hypo-allergenic, FDA approved and safe for the environment. And equally important, it is safe to use on your baby's sensitive skin.
What does the Nordic Swan Eco-Label mean? (seen below in photo of Bambo Nature's packaging)
Products with the Nordic Swan Eco-label are manufactured with no harmful chemicals, a reduction of carbon dioxide emissions, less waste and more recycling. Consumers can choose to purchase these products and support sustainable manufacturers and buy products that are the least harmful to the environment.
Here is the best shot I could get of my toddler in his Bambo Nature diaper. (You have no idea how I had to chase him around the house trying to get him to stand still for half a second for this picture! Toddler models are not easy to work with, haha!)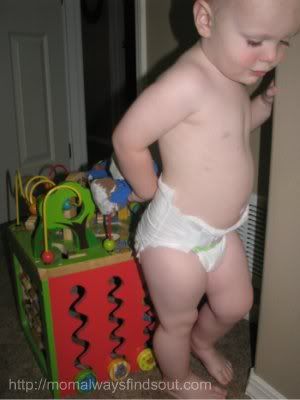 My only regret about the Bambo Nature diapers is that they are not readily available in mainstream stores. I think that parents who are looking for an eco-friendly disposable diaper option would love to try these, but Bambo Nature diapers are not something they can go buy off the shelf at a local retailer.
Don't let that small inconvenience stop you from trying a great alternative to traditional disposable diapers. You can be eco-friendly and use disposable diapers with a lower eco-footprint when you choose to buy Bambo Nature.
Purchase Bambo Nature diapers online at the
Bambo Nature store and Amazon.com
I received one or more of the products mentioned above for free using Tomoson.com. Regardless, I only recommend products or services I use personally and believe will be good for my readers.