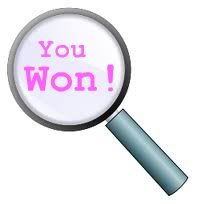 Congratulations to the winner of my

Blogorama Bonanza giveaway

: Jessica E.
Please check your e-mail and respond to claim your awesome prizes!
Blog News:  
I'm experimenting with a few new features on my blog.  Next time you visit, you may notice new options in my Main Menu such as "Coupons" and "Special Offers".  I promise I am not trying to turn into a Coupons & Deals site  — I don't have the energy for that!
As a blogger, I do have the opportunities to learn about coupon deals and special offers to share with you.  If it is something I think is a REALLY SUPER GOOD deal or is something that I myself took advantage of doing/buying, I want to let you know about it too.  Cause that's what friends do, right?
You'll also see a special tab for "Eco-Friendly Reviews" – I am trying to get all my Eco-Friendly items grouped into one place so it's easier for you to find them.  Every Friday is Eco-Friendly Friday at my blog and I do my best to blog about a product, company, giveaway, craft or something that falls into that category.
And lastly, I just want to say I appreciate each one of you for reading my blog.  I love to hear from you, too.  Your comments mean a lot and I just wanted to say THANKS!
Have a wonderful weekend everyone! — Nicole
PS Don't Forget To Enter To Win My Current Giveaways:
*Rafflecopter Roundup Hop: Toilet Tree Fogless Shower Mirror, 9/25
*Now Eat This! by Rocco DiSpirito, Signed Copy Cookbook Giveaway, 2 winners, 9/26
*Pillsbury Sweet Moments Prize Package, 9/30
*VeggieTales DVDs: Larry Learns To Listen & Bob Lends a Helping Hand, 10/2