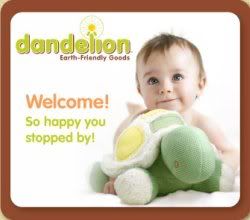 Dandelion Earth-Friendly goods offers eco-conscious families a wide variety of infant products that they can feel good about using. You'll find organic rattles and teethers, developmental toys, organic plush toys, organic layette, natural tableware, and more.
We received a generous set of natural tableware from Dandelion for review. The cool thing about the tableware is that it is made from CORN! Yes, you read that correctly – it is made from corn and it is all yellow! Corn products are more Eco-friendly than conventional plastic products because they require less fossil fuels to produce and they also emit fewer greenhouse gases during production. Plus, corn is a renewable and sustainable resource.
Dandelion's corn divided plates, bowls, utensils, and infant bowl and spoons are all very nice, sturdy and durable. The eating utensils are wonderful because they are the perfect size for my kids to use. I especially love that the spoons are what I call "extra deep," which helps my kids to eat things like cereal without spilling and making a big mess.
In addition to the tableware, we received items from the BELIEVE organic plush collection: a Large Elephant and the Small Elephant. These animals are made from natural materials and the collection was created to inspire families to think about their impact on the planet and animals. Love their motto:
Believe you can make a difference, Believe even small steps matter, Believe it's worth the extra effort!
Here are a few photos of my children hugging, kissing, and squishing their precious elephants!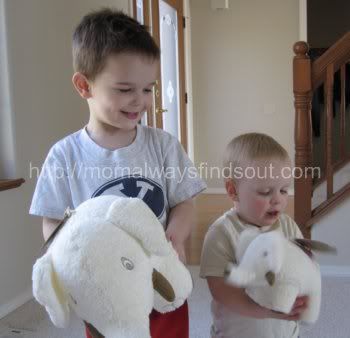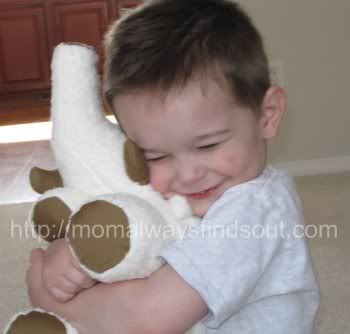 *See more of
Dandelion's Earth Friendly products on their website
, where items are available for online purchase and you can also search for local retailers.
*Find
Dandelion on Facebook
and Follow Dandelion on Twitter.
WIN Dandelion tableware products (Winner's Choice!) during the Blog Bash 2011 giveaway June 22-26. Stop by Mom Always Finds Out and enter to win!