All summer long, Hershey's is having photo contests at the Hershey's Facebook Page. To enter, all you have to do is Like their page and upload your favorite S'mores moments caught on camera.
We eat SO many S'mores in the summer — my kids probably think S'mores are another food group! Our family loves to go outside on a nice evening and make S'mores on the firepit. I could not resist entering the Hershey's contest – they are giving out some great prizes to the photo that gets the most votes between now and July 12.
Here is my photo entry: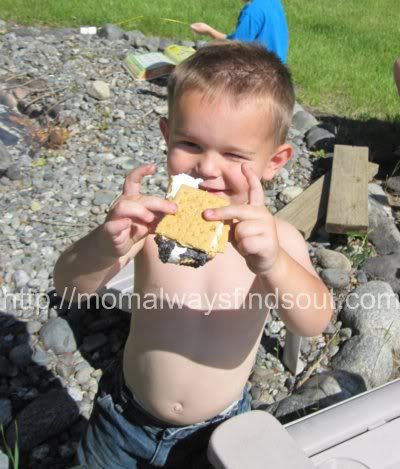 Do you have a great S'mores moment caught on camera? You should enter the contest too! Or if you just want to vote for your favorite pictures, head over to Like the Hershey's Facebook page and you'll see the contest page. Click on the photo you want to vote for and select "Vote." Look for my picture (seen above) while you're there!