This post brought to you by Blue Bunny Ice Cream. The content and opinions expressed below are that of Mom Always Finds Out.
Blue Bunny Sweet Freedom products are no sugar added ice cream treats that fit into a low sugar, low carb diet. Just because you want to cut back on your carbs and sugar intake doesn't mean you have to cut back on flavor. Blue Bunny has got your sweet tooth covered – check out many different ice cream and frozen treat options.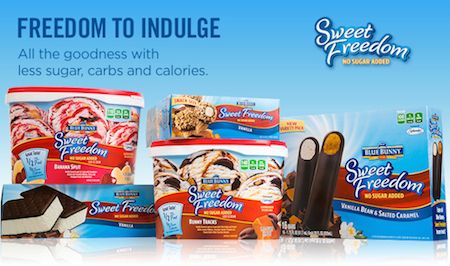 November is American Diabetes Month. There are more than 30 million children and adults in the United States living with diabetes. That's a shocking fact all by itself. But perhaps even more shocking is that 86 million Americans have prediabetes are and at risk for Type 2 Diabetes. Health professionals say that an active lifestyle and healthy eating can help people fight back against diabetes.
It can be hard to find great tasting treats that fit into a special needs diet. That's why Blue Bunny Sweet Freedom's Sugar Free selection is something to get excited about. You can enjoy sugar free ice cream flavors (like Butter Pecan!), Snack Size Ice Cream Cones and Ice Cream Sandwiches — even while watching your daily sugar intake. Sweet Freedom treats can help you watch your sugar and carb intake, especially during the holiday season when we all like to indulge our taste buds. 
One of my favorite Blue Bunny Sweet Freedom Treats are the Krunch Lites. These vanilla ice cream bars have a chocolate shell with crisy rice. YUM! They totally satisfy my craving for some thing sweet. A Krunch Lite has just 100 calories, so I never feel guilty about eating one. I love knowing I can enjoy delicious ice cream without the extra calories and carbs.
Follow Blue Bunny on Pinterest
Like Blue Bunny on Facebook
Are you watching your daily sugar intake? What are your favorite Blue Bunny Sweet Freedom ice cream treats?